Manchester United
How Man Utd selling Pogba will undermine Solskjaer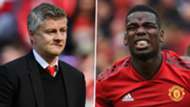 Manchester United are adamant that Paul Pogba remains central to their plans for the 2019-20 season despite the Frenchman talking of a need for a new challenge, and the fallout could decide whether Ole Gunnar Solskjaer's Old Trafford reign will end in success or failure.
Pogba appeared to be laying the groundwork for a summer transfer to either Real Madrid or Juventus when speaking at a sponsor's event on Sunday in Tokyo.
"After everything that happened this season, with what was my best season as well, I think for me it can be a good time to have a new challenge somewhere else," said the 26-year-old. "I'm thinking of this, to have a new challenge somewhere else."
But as far as United sources are concerned it is business as usual, with Pogba considered a key piece in their rebuilding mission following a disappointing sixth-place finish in the Premier League last season.
And while Pogba is now expected to ramp up his quest to force a move before the new campaign begins, Solskjaer's own future could hinge on exactly how the midfielder's summer mission plays out.
Even four months before becoming United boss, Solskjaer was speaking at length about his desire to build a team around Pogba. "Paul is a fantastic kid, so hopefully we can build the team around him and keep him," said the Norwegian ahead of a Europa League qualifier for Molde at Hibernian last August, and one imagines he is saying almost exactly the same behind closed doors at United's Carrington training ground right now.
Having said time and again that he wants the 2018 World Cup winner to be the focal point of his masterplan for United, Solskjaer's credibility would take a monumental hit if Pogba is sold from under him. Already characterised as a sentimental choice as United manager, the legendary striker's paltry return towards the end of last season – the Red Devils lost eight and won just two of their last 12 games – threw his entire reign under the spotlight.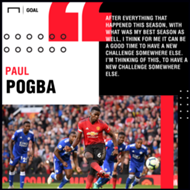 So with a lack of managerial pedigree and a shortage of results, the one thing Solskjaer has had going for him has been his vision for what he expects from the new United beyond the planned rebuild over the next 12 months. Yet the loss of Pogba would rip the heart out of his project.
United cannot afford to have a disgruntled star player in the camp going forward, and as such it is arguable that the sale of Pogba must be completed in as speedy and effective a fashion as possible. The club are reportedly extremely unimpressed with the player's decision to openly pursue a move through the media, and there has to be an expectation that he and his agent Mino Raiola will continue to badger for a transfer until they get their way.
But the big loser if that is to happen will surely be Solskjaer. Where do his plans sit if his centrepiece is gone? The Norwegian will need to construct a whole new midfield this summer given that Pogba and Paris Saint-Germain-bound Ander Herrera made up two-thirds of his first-choice engine-room last term, and Nemanja Matic shows increasing signs of ageing at a time when the manager is seeking to make United a faster, slicker outfit in the opposition half.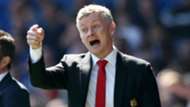 Perhaps more than that, Solskjaer potentially becomes manager in name only if his constant crowing about his plans for Pogba falls on deaf ears in the boardroom. Which is worse? Holding on to a player who desperately wants to leave, or so obviously leaving your manager with no credibility?
United need to back the boss and do everything possible to keep Pogba at the club if Solskjaer is to have any hope of succeeding, otherwise the Baby-Faced Assassin has no hope of commanding respect when push comes to shove on the training ground. In a day and age during which player power rules, Pogba's sale will ensure that every member of the United squad knows their manager is not calling the tune. Moreover, which major transfer targets are seriously going to consider coming to Old Trafford and playing under a manager who apparently has so little say in the future direction of the club?
Keep Pogba, and the possibility for friction within your squad is raised a level. But if he is sold, Solskjaer is left with one of the most threadbare United squads in generations and could become nothing more than a lame-duck manager counting down the months until his lack of public authority eventually leads to his demise.
To a large extent, United are left in a no-win situation.