Slovakia v England
Kane, Vardy, Sturridge, Rashford - Hodgson can't just throw all his strikers on and hope for the best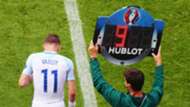 ---

COMMENT
---
England occupy an awkward spot in world football; too strong for the weak teams, too weak for the strong ones. As such they are caught between two ways of playing which will create trouble for them here at the European Championships. Against Russia and Wales - and for much of their qualification groups where they are usually top seeds – they are the team in possession.
Generally, a goal will come to get them going regardless of what kind of team Roy Hodgson picks. When they are the team on the retreat, however, England have to play another way. Their ball retention and their movement are not slick enough for teams like Spain, Italy, Germany and France. That means what works in the qualifiers is not always going to work in tournaments.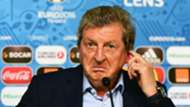 That, in turn, has a knock-on effect on England's strikers. The forwards fulfil one role against the weaker teams and another against the better ones. It's in those crucial knockout matches that the 'real' England has got to emerge. Daniel Sturridge and Jamie Vardy got the job done against Wales but that will have no bearing on what is likely to happen once Slovakia are cleared.
It's not always a matter of who England should play, it's more a question of how England should play. Most top teams have their way of playing and stick with it aside from the odd foray into Plan B territory. The Three Lions might be the only team who need two distinct ways of playing - one for when they are the boss and one for when they are being bossed.
They've had two matches of being the boss so far at these European Championships and have four good points to show for their efforts. After Slovakia though, they are moving ever closer to "being bossed" territory.
It all would have been easier for Hodgson had Daniel Welbeck stayed fit. The Arsenal man started all of England's first five qualification matches and, when fit, has always been a mainstay of the manager's line ups, either on the left wing or through the centre with a partner. He is the ideal man for both ways of playing. Without him, there is nothing definite about Hodgson's attacking options – neither for his team which keeps the ball nor for his team which will have to do without it later on.
Hodgson brought order to the standings through the chaos of his decisions against Wales last week. As much as the England coach might try in hindsight to apply logic to using all five strikers at his disposal in France, the fact of the matter is that bringing on Vardy and Sturridge at half time to chase a deficit was a roll of the dice. They came up with two sixes.
All the coach knows at the moment is that Sturridge and Vardy came on and scored in the last game while Kane is goalless at Euro 2016. What that means is that Kane is likely to be dropped for Slovakia and both Sturridge and Vardy will start with the Leicester City man coming on in place of the jaded Raheem Sterling. But how long can it continue? Will Hodgson drop any striker who is not scoring and hope his replacement does so? That doesn't sound coherent.
"There are other players knocking hard on the door, anxious to get their chance and show what they can do," Hodgson said. "It's a question of what we'd like to do, rather than what we have to do."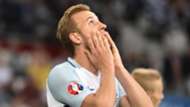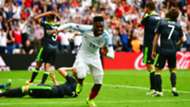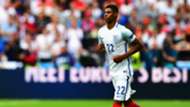 Instead it would have been more advisable to pick a strategy and stick with it. Kane and Vardy – 49 Premier League goals between them – should have been given the chance a long time ago to form a partnership and work at it. England will be relying on counter attacks in the knockout rounds. There's no shame in that. After all, that kind of football won Leicester City the Premier League title and allowed Atletico Madrid to reach a Champions League final.
Building a relationship between Kane and Vardy could have allowed Hodgson to plan long term into the tournament instead of going game by game or half by half as the case has been. Hodgson likes the midfield diamond, as Diego Simeone does, and has the players at his disposal to mirror what Atletico do with and without the ball. Vardy's speed on the counter late on would have won the game for England against Russia – instead of the diligent if stolid midfield attributes that James Milner brought – while Kane's ability to bring others into play and to find a key pass easily outweighs the fact that he is without goals so far in the Euros.
The selection criteria for the Slovakia game would appear to be whoever scores, starts but two scoreless games do not mean Kane should be dropped. "I have spoken to Harry," Hodgson said. "He's been very good in training the last couple of days. I don't think he's suffering more than any other player. We have some players who haven't played on a regular basis. No problem with him in that respect. 
"As for Jamie and Daniel - I'm sure they'd like another chance too. It's a decision that has to be made."
Sturridge is a dynamic player and – mercifully for England – he appears to be fully fit. No other England attacker possesses his range of attacking strengths as his goal and cross for Vardy's goal against Wales proved. It may very well be the case that he makes the difference against Slovakia too.
But even if he does score, there's no plan there. England might be getting results but collectively there is still no real identity and no effort made to prepare for trouble down the track.
Goal journalists are powered by the Samsung Galaxy S7 and Gear 360