Manchester City
Haaland a problem!? Guardiola responds to baffling claims after latest hat-trick from Man City's 'incredible' striker
Blues have changed their system for No.9
Rewarded with a remarkable haul of goals
Norwegian star considered to be undroppable
WHAT HAPPENED? The prolific Norwegian striker has been a revelation in the Premier League this season, with a treble against Wolves – his fourth of the campaign – taking him to 25 goals in the English top-flight. City have had to change their system slightly to incorporate the 22-year-old frontman, leading some to suggest that he may be the cause of uncharacteristic struggles for consistency as a collective, but Guardiola has no doubts that Haaland will be a key man for City whenever he is available for selection.
WHAT THEY SAID: Guardiola told reporters of his star No.9 after seeing him down Wolves and edge City closer to Arsenal at the top of the Premier League table: "The numbers are incredible. He lives 24 hours for his profession, job, passion, love. He's not stressed much when it's going well or going bad. He is stable. He feels the defeats. It's really good. He is not a player who will take the ball 10 metres behind the box. It is not his ability. He has to get the balls being delivered as much as possible from the fantastic players around him. The first goal is because he's there. The delivery from Kevin (De Bruyne) is fantastic. Always I believe. We know each other."
THE BIGGER PICTURE: Guardiola added on the baffling questions that have been asked of Haaland's presence in the City side: "Listen, when we lost the competition (Community Shield) against Liverpool, all the debate (in the) week, 10 days before West Ham, is he will not adapt to the Premier League. When he played and scored, I don't know many goals, he is the solution and everything of the team and when he does not score, he is the problem in our team. This is a great vision of these kind of things. We know his quality. We know each other. He is not a player to be dropped. We can't play the false 9 with him. You have to adapt some movements with him. And we are doing quite well. The numbers are quite similar when we were champions many years here, except the season (we got) 100 points. So, we are there. Getting to improve, improve, improve. This is what we have to do."
IN THREE PHOTOS: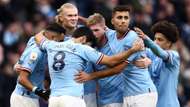 DID YOU KNOW: Haaland has scored his fourth Premier League hat-trick for Man City in what is just his 19th appearance, the fewest games taken to score four hat-tricks in the competition's history (previous record was 65 apps by Ruud van Nistelrooy).
WHAT NEXT? Haaland has only failed to find the target in seven of his 26 appearances for City, with 31 goals recorded across all competitions, and Arsenal will be in his sights on Friday when the Gunners pay a visit to the Etihad Stadium for a heavyweight FA Cup fourth-round clash.
@goalglobal

erling haaland or prime wayne rooney? 🤷‍♂️ #fyp #football #premierleague #erlinghaaland #manchesterunited #manchestercity #soccer

♬ orijinal ses - 𝗕𝗔𝗥𝗖𝗔¹⁸⁹⁹