Atlético Madrid
Filipe Luis on the attack to cement Brazil role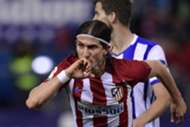 No other national team in world football has to choose between two left-backs of the standard of Marcelo and Filipe Luis, who both became UEFA Champions League semi-finalists this week.
The battle is on for who will slot in on the left side of the back four at next year's World Cup.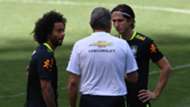 Real Madrid's Marcelo is clear favourite, having returned to the national team after being left out in the cold for over a year by previous management, leaving former first-choice Filipe Luis playing catch-up.
Marcelo has started five of Tite's eight games in charge so far, missing one through suspension and two through injury – on all three occasions Filipe Luis slotted in and impressed.
While Filipe Luis is stronger defensively, Marcelo offers more going forward, illustrated once more this week during his sensational run for Cristiano Ronaldo's second against Bayern Munich. 
But April has been a month that the Atleti star has sent out a clear message to Tite that he too can post a significant threat in attack.
Last weekend, he made it three goals in his last four la Liga matches. And with five assists to his name this season, he is just behind Marcelo as the full-back with the most decisive passes in Spain this season.
And on Tuesday, he was used as an offensive weapon by coach Diego Simeone as Atleti dominated the first half, with all their attacking play flowing from him on the left wing.
Solid as a rock, having starred in Europe's toughest defence during the club's greatest era, Filipe Luis is well aware that it will be the other areas of his game that dictate his Brazil future.
He still faces an uphill battle to dislodge Marcelo from the starting line-up, particularly given the relationship between the Real Madrid man and Neymar further forward, but he is doing all he can bring more to the party.
Regardless, Tite will be delighted to have them both.