Gary Cahill
Chelsea won't be drawn into mind games, says Gary Cahill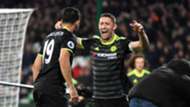 Gary Cahill is adamant Chelsea won't be getting into any mind games with their rivals as they compete for both the Premier League title and FA Cup in the coming weeks. 
Ruthless Chelsea are the anti-Arsenal
The 31-year-old has been filling in for John Terry as captain this season and helped Chelsea to open up a 10-point lead at the top of the table courtesy of a 2-1 win at West Ham on Monday night.
Chelsea's dominance in recent months has seen former manager Jose Mourinho call his old team 'boring', while Manchester City boss Pep Guardiola and Tottenham striker Harry Kane have also chipped in with comments.
However, Cahill thinks their comments are to be expected, with Chelsea having played last of the Premier League's top six over the recent weekend. 
Xavi wants to be Barca manager
"It is natural. We are watching how everyone does. It is natural and that's the way it is," Cahill said at the London Stadium. "Everyone is fighting to try and win the league. We have put ourselves in a tremendous position, we are working hard.
"They played first and we got the result. The pressure was on us in that sense. I am sure they were watching and hoping that we would lose. It was important result, it could have been a sticky game for us but we did enough to get a result.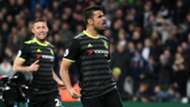 "I don't care how we are top of the league. I think we are top of the league for a reason. We have been working hard, playing well, not conceding goals and so we are top of the league and we just want to continue that.
"Keep that going. I can't stress enough that it is not over. We have got a difficult month, next month, which is going to be important. We are focused and we are not listening to any noise. We know what we are doing and we are fully prepared to see it over the line."
WATCH: Muller's priceless reaction
Cahill has been ever present for Chelsea this season and has experience of winning the Premier League title under his former boss Mourinho two seasons ago. 
He believes that the current side retain the experience from that season as they aim to achieve another league title under their new boss Antonio Conte. 
"Experience comes into play at this stage of the season, especially," he added. "We know what we have got to do. We are focused. We have been doing the same things, working hard all season, nothing should change.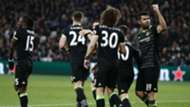 "Our focus shouldn't change, our mindset shouldn't change, the way we work shouldn't change. Everything should be the same as what it has been. We have the experience to come to places like this and to sometimes be patient.
"In the first half we counter-attacked, it could have been two or three, but it wasn't. We just had to be patient. We went in 1-0 and we were patient before we got the second goal, which I thought killed the game."
WATCH: Man City wonderkid's stunner
Chelsea now prepare to face Manchester United in the FA Cup and Cahill admitted that it was a huge game for both clubs and that he thinks his side will be prepared for Monday's match at Stamford Bridge. 
"It is a fantastic game. It is a fantastic game for us, the neutral and for everyone involved," he continued. "It is a huge game and there's some huge teams still left in that competition so you are not going to dodge the big teams at this stage.
"If you are still in this competition, you are going to face the big teams that are left in it and that game is massive on Monday. We will be ready for it. We have got a week left to prepare and hopefully we will keep ourselves fit, as we have managed to do this season, and we will be prepared."