MLS
Altidore: MLS catching up to Liga MX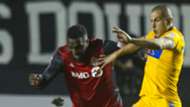 Jozy Altidore concedes Liga MX is still a bit better than MLS, but believes the latter is making excellent strides in closing the gap and might have a brighter future.
Altidore's Toronto FC nearly became the first MLS team to win the CONCACAF Champions League in its current form, vanquishing Liga MX Apertura winners Tigres UNAL in the quarterfinals and then Club America in semifinal stage.
However, the reigning MLS champions, who were coming off arguably the league's greatest season ever, eventually fell to Chivas in the final on spot kicks, denying the league a chance to finally get one over on its southern rival.
Toronto faces Tigres in the inaugural Campeones Cup between the MLS champions and Liga MX Campeón de Campeones winners on Wednesday, and Altidore does not disagree with the assertion that the Mexican league remains superior.
However, the striker believes that MLS is handling its growth well, and may actually have a brighter future.
"I think the Mexican league probably still is better in terms of the quality they're able to attract from top to bottom," Altidore told reporters. "The inferior teams so to speak in Mexico are able to spend a little more and spread it out and get some more quality players. Our league is doing a good job of trying to counter that.
"We have a salary cap so it's different. But I think looking at both leagues with us having a salary cap, we have to be happy with where we are and where we're trying to go.
"I think the possibilities are great for MLS, and I think if anybody's future is brighter so to speak, you can't knock what's going on in MLS right now."
Likewise, Tigres and interim Mexico manager Tuca Ferretti thinks the gap between the leagues has closed and that Toronto would be among the contenders if it were in Liga MX.
"I think Toronto is quality, excellent," Ferretti told reporters Tuesday. "It's the MLS champion. We've played them and they've got past us and we're considered one of Mexico's best teams."
"Although it is only speculating, I think they'd do well [in Liga MX]. I don't think they'd be outside the playoffs, I actually think they would be considered among the teams that are regularly in the playoffs and has a shot at the title."