Premier League
What is Amazon's Man City documentary & how to stream it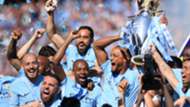 This week, Amazon will be releasing an exclusive fly-on-the-wall documentary series focused on Manchester City and covering their journey to becoming Premier League champions for the third time.
Featuring behind-the-scenes team meetings led by coach Pep Guardiola and footage with Man City stars such as Kevin De Bruyne, Raheem Sterling and Gabriel Jesus, 'All or Nothing: Manchester City' will be sure to appeal to every football fan.
Goal has your complete guide and everything you need to know about 'All or Nothing: Manchester City' as well as its release dates, how you can stream the episodes as well as the latest trailer.
---
What is 'All or Nothing: Manchester City'?
---
'All or Nothing' is a series of fly-on-the-wall documentaries centred on major sporting teams, following on from other series that covered the likes of the Arizona Cardinals, Dallas Cowboys, Los Angeles Rams and New Zealand All Blacks.
The newest iteration of the documentary series will be the first to cover a Premier League football team, and will be narrated by Sir Ben Kingsley.
'Being: Liverpool', a similar type of documentary distributed by FOX Soccer released in 2012 based on the Merseyside club, is not part of the 'All or Nothing' series.
Shot during the course of the most recent Premier League season, 'All or Nothing' coincides with Manchester City's monumental title win featuring their record-breaking 100-point haul and culminates in their open-top bus parade.
The documentary crew followed the City team virtually everywhere in their title-winning season, except for the Old Trafford tunnel – as Man United had refused permission – so there will be no footage related to the infamous bottle-throwing incident involving Jose Mourinho.
While the highs of winning the Premier League and the Carabao Cup will be shown, lows such as Man City's Champions League exit to Liverpool will also be covered.
Amazon coughed up £10m for the rights to the series which has been described as a 'ground-breaking project' by City chief executive Ferran Soriano.
The most recent trailer, which you can view in full below, depicts Guardiola in the City dressing room, appearing to give his players a pep talk (no pun intended).
"Today, I didn't see the desire to win," the Spaniard is shown saying to his City team, channeling Mel Gibson in 'Braveheart'.
"Some of you play better when you are angry with me. So if you hate me, hate me, guys. It's no problem." In the middle of this, you can see John Stones in the Man City dressing room tossing something away very dramatically.
The trailer includes exclusive footage of City's training grounds and a behind-the-scenes look at the Etihad Stadium.
In a completely unpredictable move (just kidding), 'Wonderwall' by Oasis makes an appearance half-way through the trailer (did you know that Noel and Liam Gallagher are Man City fans?). 
Naturally, as it is the only song Manchester City players and fans are aware of, the video ends with the City team joining in a rousing rendition of the beloved Britpop banger.
---
When is 'All or Nothing: Manchester City' released?
---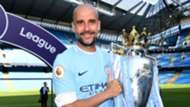 The series will be shown in eight one-hour episodes, and will begin airing on August 17 with its premiere set for August 15.
It had been brought forward from its initial release of October.
---
How to watch 'All or Nothing: Manchester City'
---
The series will be globally released and all episodes will be aired on Amazon Prime Video for members of the service in more than 200 countries and territories including the United Kingdom and the United States.
Amazon Prime members will be able to stream 'All or Nothing' exclusively through the Prime Video app for TVs and connected devices including Fire TV, mobile devices and online.
Members will also be able to download the series to mobile devices for offline viewing at no additional cost to their membership.
Viewers who are interested in watching the series and are not already Prime members can sign up for a free trial.