Antoine Griezmann
Griezmann: I deserve to be in Ballon d'Or top three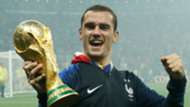 Antoine Griezmann believes he has been one of the outstanding three players in the world of the course of 2018 and, therefore, deserves a podium place in the Ballon d'Or voting.
The Atletico Madrid attacker enjoyed the highlight of his career in the summer as he played a major role in France winning the World Cup, coming third behind Luca Modric and Eden Hazard in the Golden Ball voting at Russia 2018 .
And now he believes he deserves such acclaim for his efforts over a year in which he has so far scored 23 times for Atletico Madrid in 33 outings, helping them to the Europa League and European Super Cup in the process.
"I deserve to be in the top three," he told L'Equipe , looking back in comparison to 2016, when he finished third behind Cristiano Ronaldo and Lionel Messi off the back of European Championship and Champions League final heartbreak. "That year, I lost two finals, this year I've won three, so normally…"
Griezmann admitted that he was surprised that neither he nor any of his France team-mates made a shortlist for FIFA's The Best prize .
"It's weird and a pity," he said. "This is a trophy that's awarded by FIFA, right? We won a World Cup and there's no Frenchman on the shortlist. That's the choice, but it's surprising."
Furthermore, he poked fun at international team-mate Kylian Mbappe who did not include him in a shortlist of his Ballon d'Or favourites following the World Cup.
"Maybe it was an oversight!?" he said. "You'd have to ask him again. Maybe he doesn't like my football? Everyone has their opinions."
The 27-year-old has been with Atletico Madrid since 2014 and has scored 80 goals in 145 appearances for Diego Simeone's side, rejecting overtures from Barcelona in the summer to remain with the capital club.
He has now featured 61 times for France, finding the net on 24 occasions. Included among these are the four goals he scored during the World Cup finals, including a penalty in the final itself against Croatia, a fixture that France won 4-2.
Simeone has said that his forward is well placed to win the Ballon d'Or , while club and international team-mate Lucas Hernandez says he is the "favourite" .