eSports
Christian Fuchs signs up newest FIFA eSports star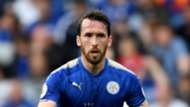 Leicester City defender Christian Fuchs has secured yet another FIFA 19 player for the growing roster of his esports team, No Fuchs Given. The experienced Sean 'Dragon' Allen has joined the team in what is the organisation's biggest name transfer yet.
Now a veteran player, Dragon has beaten his good friend Spencer 'Gorilla' Ealing in signing for a team as the former FIFA Interactive World Cup champion is still a free agent. That aforementioned FIWC title was partly thanks to Dragon who coached Gorilla throughout the tournament.
And the year before that Dragon came runner-up in the FIWC himself, as he lost on away goals to Mohammad Al-Bacha despite taking a 3-1 lead into the 88th minute.
That was the first time Dragon had ever reached a final since he began competing in 2008 and he is still looking for that first major trophy. You can understand why he got so emotional on stage when Gorilla handed him the trophy to lift after the 2017 FIWC final.
ENTER THE DRAGON.... He is the 2016 @FIFAeWorldCup world runner up and has already qualified for 2 #FIFA19 events this year - Welcome to the @NFG_eSports team @DragonFIFA_ #nofuchsgiven 💀☠️👊 pic.twitter.com/KERGt08Vfk

— NFG_eSports (@NFG_eSports) November 25, 2018
The last season was a difficult one for Dragon as he failed to leave an impact and had to watch the eWorld Cup from home. Yet, that hasn't kept him down as the new NFG signee is flying this year - having already qualified for two major FIFA 19 events.
The deal comes just in time for Dragon to represent NFG in Bucharest, Romania this weekend for the first official FIFA Ultimate Team Champions Cup of the season. And Dragon continued his excellent form last weekend as he qualified for the third FUT Champions Cup in January which will be held in an unconfirmed location.
Dragon will be hoping this is third time lucky for him as NFG are the third organisation he has represented.
Back in 2016, Dragon became one of the first FIFA players to represent a Premier League side as he became West Ham's first ever esports player. Then Dragon helped relaunch esports organisation Lightning Pandas who were previously best known for competing in Call of Duty but after a difficult year, he left in search of greener pastures.