L. Messi
Saudi chief reacts to talk of £246m Messi transfer deal as Argentine superstar is linked with Ronaldo reunion
Argentine yet to sign PSG extension
Linked with clubs in Asia & America
Portuguese icon already in Middle East
WHAT HAPPENED? Portuguese superstar Ronaldo has already taken on a new challenge in 2023, with the most lucrative contract in world football being signed by the five-time Ballon d'Or winner at Al-Nassr. There has been speculation to suggest that his deal could be topped by a £246 million ($305m) approach for Messi from Al-Hilal – with the Argentine World Cup winner yet to sign a new contract at Paris Saint-Germain that will keep him away from free agency this summer – but Ibrahim Alkassim claims to be unaware of such an offer being readied for the owner of seven Golden Balls.
WHAT THEY SAID: The Saudi football chief has told Marca: "At the moment we do not know anything about a possible Lionel Messi arrival. Although I do not hide that, as Saudi Federation, we would like to have him one day in the domestic league. The idea of the Federation is always to improve our football, and of course we would like to see Cristiano and Messi in the same league again, but the truth is that we don't know anything now."
THE BIGGER PICTURE: Messi is still expected to agree fresh terms with PSG at some stage, with the 35-year-old South American set to remain in France for at least one more year.
IN THREE PHOTOS: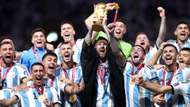 WHAT NEXT? Messi may decide to try something new in 2024, with there plenty of speculation to suggest that the all-time great is wanted in the Middle East and the United States – with David Beckham co-owned MLS outfit Inter Miami another side to have been heavily linked with a bid to bring the global icon on board.
@goalglobal

even the pros know messi is the goat 🐐 #lionelmessi #messi #goat #argentina #barcelona #psg #football #futbol #soccer #fyp

♬ original sound - GOAL