Forever second place: Why Nani never escaped from the shadow of Cristiano Ronaldo
Last Updated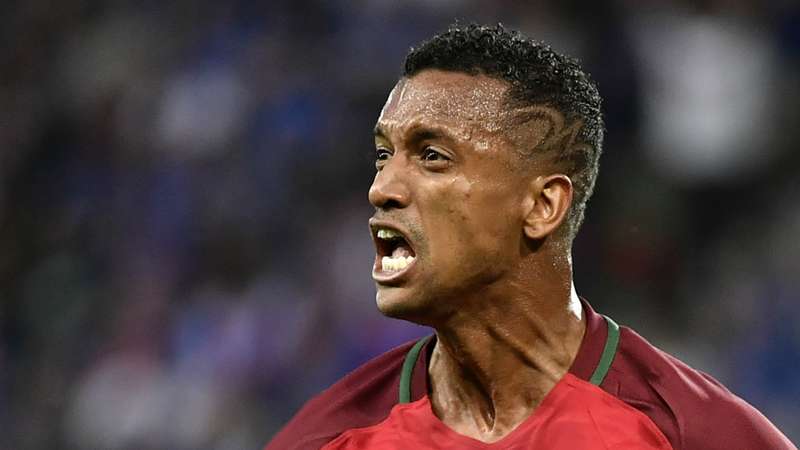 Getty
---
COMMENT
---
By all accounts, Luis Nani, at the age of 30, can point to a more than respectable professional football career. The Portuguese winger has played for two of Europe's biggest clubs, won a host of titles and even been crowned a champion of Europe with his nation. But no matter what the Valencia man achieves, it will pale in the shadow of his close friend and former mentor.
The relationship between Nani and Cristiano Ronaldo, who will lock horns on Wednesday when Real Madrid take on Los Che, is legendary. Ronaldo acted as a father figure to his younger compatriot when he arrived at Manchester United in 2007, helping him settle in to his new surroundings, learn English and face the considerable step up in pressure a move to the Premier League entailed.
Zidane reveals Ronaldo's best role
"I lived in his house to begin with – me, Ronaldo and Anderson," Nani told Omnisport back in 2016. "That was very important for us, because we were so young and he [Ronaldo] had all the experience. He knew how to deal with everything [in England]; the streets, the cameras, the driving rules, because it's so different in England compared with Portugal.
"He helped a lot and gave me a lot of advice in training. He was very important and I was so happy about that; to have a team-mate from my own country who gave us that little bit of help to make us that little bit more confident."
Nani was in fact considered to be Cristiano's natural heir at Old Trafford. Quick, tricky and devilishly difficult to stop down the wings, at 20 he was a regular starter in his maiden season at United, making 41 appearances and impressing many observers. But he failed to fulfil that early promise, particularly after Ronaldo's 2009 exit saw all eyes fall on him to replace the superstar.
City weigh up goalkeeping options
Injuries and inconsistent form kept Nani from ever establishing himself as an indispensable part of the United set-up, and finally, in 2015 and after a spell back on loan at first club Sporting, he was offloaded to Fenerbahce. And while a strong season in Turkey convinced Valencia to give the winger another chance amongst the elite of European football, his record is far from poor, even comparing to the record-breaking machine that is his captain with Portugal.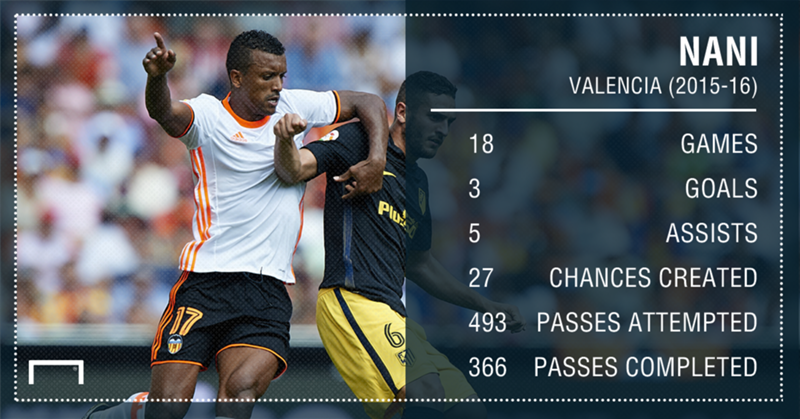 Ronaldo has smashed an incredible 508 goals over his career with Sporting, United and Madrid. Nani, just 77, albeit having played almost 300 fewer games. On the international front his record is better, 23 goals in 102 Portugal caps; but still far behind his friend, who leads Portugual's scoring charts with 36. Both players proved crucial during the Seleccao's march to the Euro title, with three goals each, but even then it was the older man who picked up the plaudits and the Ballon d'Or for his contribution, while Nani occupied a distinctly secondary role.
Those France finals could have proved the launching pad for a late renaissance for Nani. The player, however, has fallen victim to Valencia's on- and off-field traumas in 2016-17 along with the rest of Los Che's beleaguered forces. In 18 games, Nani has scored three times, exactly the number he managed in just seven outings at Euro 2016, although five further assists underline his importance to Voro's side.
Zidane reveals Ronaldo's favourite position
There are signs that things may be on the up at Mestalla after a traumatic start to the season. Three wins so far in La Liga this year, against Espanyol, Villarreal and Athletic, have helped the team move away from relegation trouble. On the first two occasions Nani helped open the scoring with an assist, and he is expected to start against Madrid on Wednesday after firing his side ahead with his own goal to see off the Basques 2-0 at the weekend. It is not just the Portuguese that is out to prove a point: joining him in the attack is Simone Zaza and Munir, two other strikers who have struggled to realise their full potential and fallen on Mestalla as a last-chance saloon.
But this Liga game, held over since December due to Madrid's participation in the Club World Cup, holds particular significance for Nani. It will be his first meeting with Ronaldo since those celebrations in France, where the striker magnaminously handed over his Silver Boot title in recognition of Nani's contribution to Euro glory. "To tell the truth, I am looking forward to this game," he told Omnisport in the build-up to Wednesday's encounter.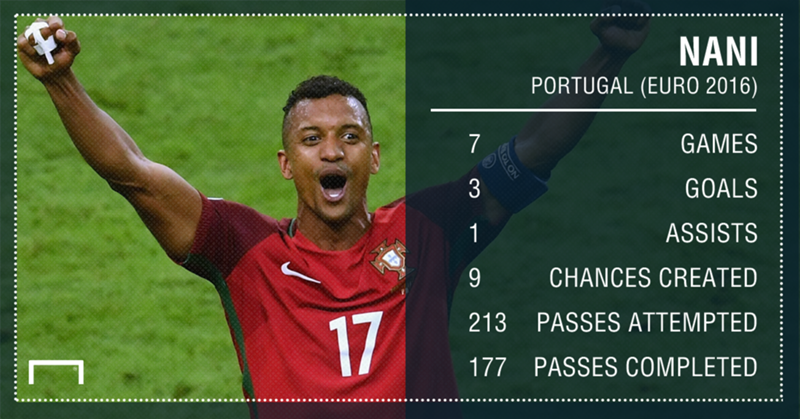 "It is something to enjoy. You play against a big team. It is a team I have played against in the past and it was a different challenge."
That last game ended on a low note, being shown a red card against Ronaldo's side in United's 2012-13 Champions League last-16 defeat. It was a familiar story: all the plaudits for Cristiano, that year's top scorer in the competition, while his countryman was criticised and vilified for letting the Red Devils down and, ultimately, not being CR7.
The friendship between Ronaldo and Nani has had its ups and downs in the years, but the latter's place firmly in the shadow of his former United team-mate has never been in doubt. Nani even credits Cristiano with guiding him towards his current club, It is not too late, however, for him to forge out his own identity. Valencia desperately need a leader in these troubled times, a proven experienced talent that can guide them out of the mire, and if Nani can brush off those Ronaldo comparisons once and for all and make a name for himself in his own right at Mestalla, he might just become the star Los Che are looking for.