Real Madrid
Conte responds to Ramos: A coach expects respect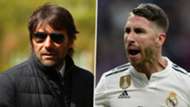 Antonio Conte has hit back at Real Madrid defender Sergio Ramos, insisting that respect must be given to managers from their first day at a new club.
The Italian is currently without a club following his departure from Chelsea in the summer, and was heavily linked with the Real Madrid post following the sacking of Julen Lopetegui.
Ramos, however, said in October that "respect is won, it is not imposed", following the 5-1 Clasico thumping at the hands of Barcelona, with many interpreting it to be a warning that Conte's authoritarian approach would not work at the Santiago Bernabeu .
Conte has now responded, insisting that he expects to be respected at all times.
"Ramos' words? When a coach arrives at a team he must bring education and respect, something that he would expect from the players too," Conte told Rai Sport, per Marca .
"When this goes wrong, the problems begin.
"We Italian coaches have a great culture of work and when you join a new club you can't change everything, you must try and do it very gradually.
"Each coach must be a good tailor and adapt their beliefs to the human material that they have at their disposal."
Conte has seemingly ruled out the idea of taking the reins at Real in mid-season , insisting that he would rather take on a new job at the end of the campaign.
"Real Madrid? As I see it, it is better to wait until the end of the season than to take a train running now," the Italian tactician said.
"I want to wait for June and start again with a new project. In three months I could change my mind and deny everything, but I've always thought of it this way."
Real are currently sixth in La Liga, four points behind leaders Barca. They will face Eibar following the international break before a clash with Roma in the Champions League.