NYCFC breaks Red Bull Arena drought with big derby win

Ives Galarcep
Jun 24, 2017 21:53 UTC +00:00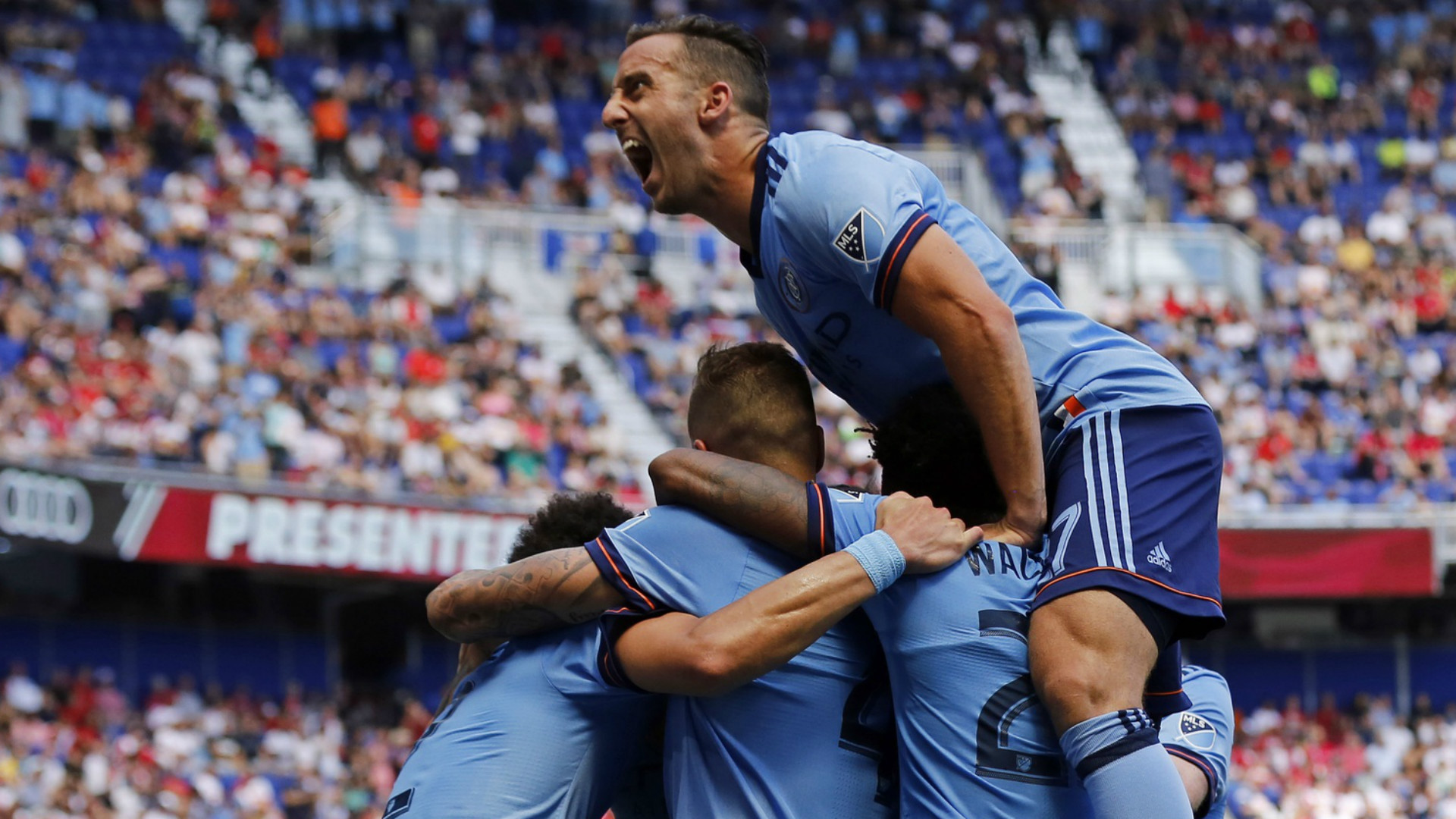 Adam Hunger
HARRISON, N.J. — After having failed to record a single point in four previous visits to Red Bull Arena, New York City FC finally tasted victory on the road against its cross-river rival on Saturday, sending a very clear message that the once-lopsided derby has a new team in charge.
The visitors in blue didn't just beat the Red Bulls, they thoroughly outplayed them for the majority of the match, creating the more dangerous chances and stifling the few attacking threats the their hosts were able to muster.
The outcome may have felt like a bit of a surprise because of the brief one-sided history of the rivalry, but it really shouldn't have been. Even the Red Bulls' recent U.S. Open Cup victory over NYCFC on this same field offered signs that things were changing. NYCFC had the better of the play on that day, but the Red Bulls managed to chip out the 1-0.
Mexico stars send Osorio a reminder
On Saturday, NYCFC put together its best performance in the history of the series, and although that may not be saying much given the lone win in seven prior meetings, it was the thoroughness of the victory that has to leave Red Bulls coach Jesse Marsch at least a little concerned about just how big the gap in class is between the teams now.
NYCFC had the superior quality, but also the superior work rate, which isn't something you don't often say of visiting teams at Red Bull Arena. Patrick Vieira's side pressed high up the field, not by strategic design, but rather because of a concerted effort by NYCFC's players to outwork the Red Bulls.
"When we look at all the games that we played against the Red Bulls previous to this year, they always wanted it more than us and that is unacceptable at this level," Vieira said. "I believe that if you want to win football matches you have to match the competitiveness of the opposition and I think today we did that brilliantly."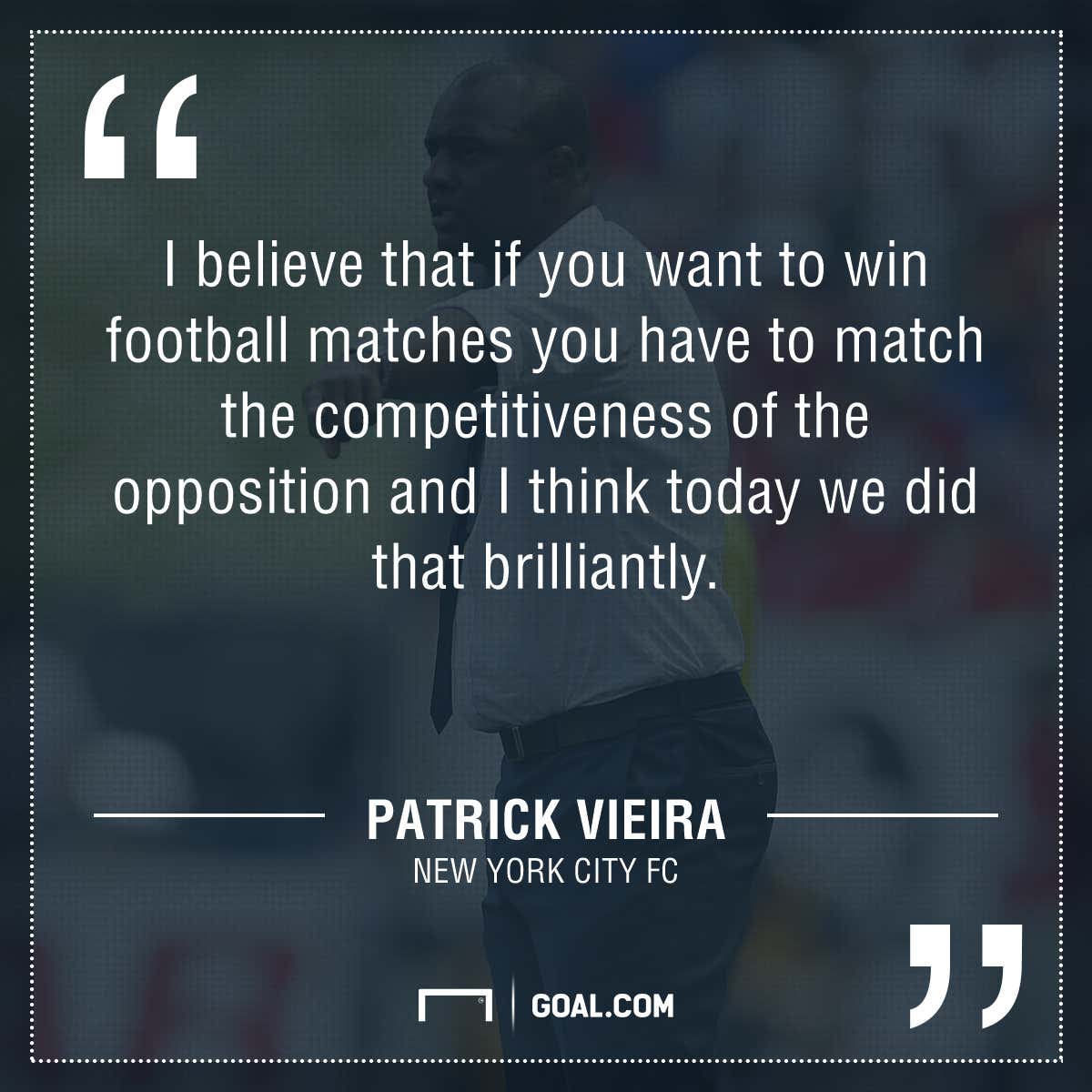 Realistically, the match played out exactly how you would expect based on how these teams have looked this year. NYCFC revamped its roster in the winter, upgrading key areas to put together a more complete squad that should be considered one of the best in the league. Meanwhile, the Red Bulls traded away one of their most influential players in Dax McCarty while once again waiting in vain for big-money signing Gonzalo Veron to justify his price tag.
Yet there was still a lingering belief that the Red Bulls would step their game up in the derby because, well, that's what they have always done.
Things have changed though. Bradley Wright-Phillips — who had terrorized NYCFC to the tune of eight goals in six prior league meetings — was rendered invisible on Saturday, with Vieira coming through on his pre-match promise to cut off Wright-Phillips' supply lines. Sacha Kljestan never did get a hold on the game, with NYCFC's Alex Ring and Yangel Herrera thoroughly dominating the middle of the field, while Maxime Chanot and Alexander Callens kept Wright-Phillips under wraps.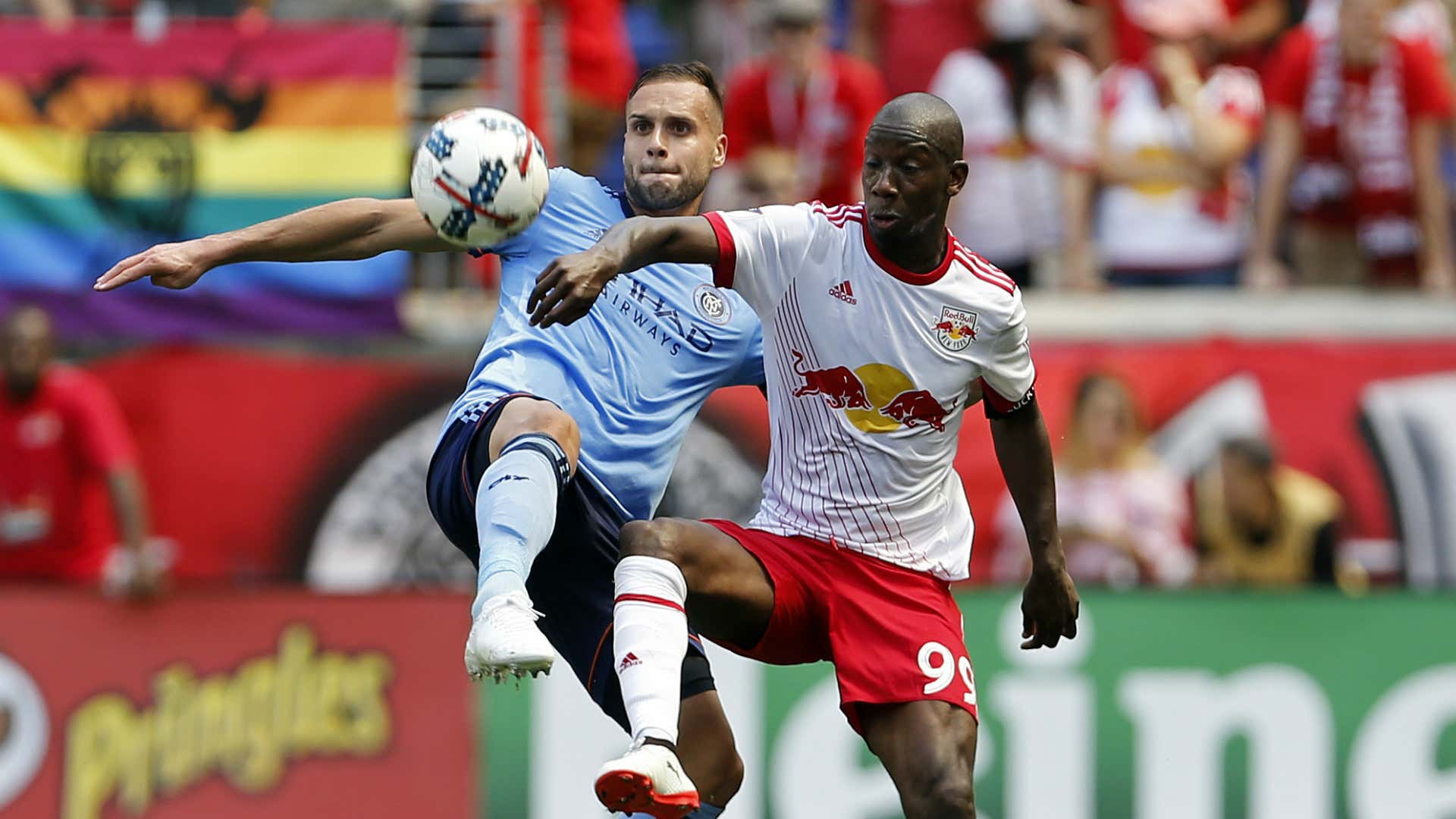 "The pressure on the ball from the front three really helped us out because they really weren't able to create much in and around our 18 (yard box)," NYCFC goalkeeper Sean Johnson told Goal. "It was tough conditions being so hot, but we knew if we sat back they would create chances and Sacha would find pockets and get the ball to Bradley Wright-Phillips, but instead we limited him to no shots on goal and that's a testament to all 11 players."
There was no sense of panic for the Red Bulls, with Marsch doing his best to try and downplay how thoroughly his team was outplayed on Saturday.
"Let's be careful about how lopsided we think the game was because we had the ball often," Marsch said. "We were now managing to control certain moments. It wasn't like we gave up a ton of chances. We gave up two, and those two cost us. But, you know, like I said, it's important for us to take parts of the game and now convert that into real chances and into real moments in the attacking part of the field."
Marsch's recollection of the match may have been a bit generous. Red Bulls goalkeeper Luis Robles made a pair of big-time saves to deny Yangel Herrera two excellent chances that could have easily padded the score even further. But it's also understandable he still believes very much in his team and its ability to get back to winning ways.
The Red Bulls are, after all, still a veteran group with a strong nucleus featuring Wright-Phillips, Kljestan and Robles, but inconsistency has been the team's hallmark this season, and the reality is that a lack of upgrades in the past two years could be catching up with them at a time when Eastern Conference teams such as Toronto FC, the Chicago Fire and NYCFC have so clearly improved their squads.
Bobby Wood signs new Hamburg deal
The Red Bulls are still good enough to be a playoff team, but after two Supporters' Shields in recent years, they were supposed to be a team making a push for that elusive MLS Cup. Instead, they are treading water, and have hit the midway point in the season with more losses than wins, and only one victory against a winning team so far this season. There have been bright spots, like the development of Tyler Adams and Aaron Long, but it's hard to point to much else about the current season and say there is reason to believe they will recapture their Supporters' Shield-caliber form.
As for the New York rivalry, Saturday's win isn't on the level of the Red Bulls' 7-0 thrashing of NYCFC last year at Yankee Stadium but, if anything, it did show how much things have changed in the year since then. NYCFC is now a much more complete team while the Red Bulls are very much a work in progress. They are also a team that has clearly fallen behind NYCFC, and they will need to improve considerably if they are going to have a chance of reasserting control when the teams meet again at Yankee Stadium on Aug. 6.