England
Dier: England's World Cup run has made us a target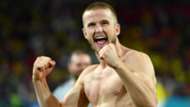 Eric Dier has warned that England's run to the semi-final of the World Cup has put a target on their backs.
On Saturday, they take to the field for the first time since Russia 2018, where they finished fourth in the competition, having lost to Croatia in the semi-finals.
That run, which propelled Gareth Southgate's side up to sixth in the new FIFA Ranking, will have caught opponents' eyes, according to the Tottenham man ahead of a Nations League meeting with Spain and a friendly against Switzerland.
"The more successful you are as a team, the more of a target you become. Do teams see beating us a scalp now? Yes," he told the Evening Standard.
"Having got to the semi-finals and played the tournament we had, we gained more respect from the footballing world. The hardest thing now is to maintain that respect and earn even more. That's what we are trying to do.
"We had a very positive World Cup and we need to build on that, get better and really keep improving. We need to maintain that high level over a long period of time to be in the top bracket."
Dier, though, says that the squad still feels that they need to prove themselves against the very best, like Spain, who were eliminated at the last-16 stage in Russia having seen coach Julen Lopetegui sacked on the eve of the tournament.
"Spain had a difficult World Cup but they are still one of the best footballing nations," he said. "We want to compete against, and beat, the best. Even though our World Cup was so positive, we still feel like we need to prove ourselves against the best teams."
Meanwhile, he is delighted to have the opportunity to play at home for the first time since the summer, when there was such a groundswell of support for the national team.
"During the tournament, it was difficult for us to really understand what things were like back home," he admitted. "Hopefully we can feel a bit of that on Saturday and Tuesday as well.
"We had a fantastic tournament, we brought unity to the nation which was needed at the time and everyone got behind us. It was incredible to be a part of, but we need to have that mentality where we should never be satisfied."
England still have four fixtures after these forthcoming matches before completing their card for 2018. Nations League matches in Croatia and Spain follow in October, before a November friendly with the USA and the return match against the side that knocked them out in Russia.