Chapecoense
'Boy angel' who assisted Chapecoense rescuers given new house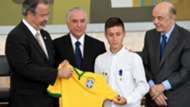 A 15-year-old dubbed Chapecoense's 'boy angel' has been given a new house for his heroics in assisting the rescue efforts following the Brazilian team's plane crash.
Johan Ramirez and his family live nearby the crash site and he and his father were among the first people to arrive at the scene of the accident and discover the aircraft.
Conte dismisses Mou's 'defensive' jibe
With their knowledge of the area, they then helped the emergency services find accessible routes to different parts of the plane from which they could extract those on board.
Bom dia.Essas são fotos da casa antiga e nova do Johan Ramirez, o chamado "Garoto Anjo" de nosso acidente. Uma entidade local o presenteou pic.twitter.com/Ds5Pq1uSoh

— Rafael Henzel (@rafahenzel) February 12, 2017
Six of the 77 passengers on the flight survived, including three players: Alan Ruschel, Jakson Follman and Neto. Another player, Danilo, survived the crash but later died of his injuries.
Until now, Ramirez had been living in a shack in the mountains in La Union, a town in the region of Antioquia.
But to reward him for his bravery, local authorities have built him and his family a much newer, safer home - and even painted it bright green, the colour of Chapecoense's home kit.
Chapecoense were en route to the first leg of their Copa Sudamericana final against Atletico Nacional. They crashed in Colombia before reaching their destination in Medellin after a stop to refuel in Bolivia.
Initial reports have put the accident down to fuel exhaustion caused by insufficient flight planning on the part of the aircraft's crew.
Pogba: It's a dream to face my brother
Chapecoense have since resumed competitive play in the Catarinense state championship and have two wins, one draw and two defeats in their first five matches.
Having lost the majority of their first-team squad in the tragedy, they have loaned a large number of players from other Brazilian clubs in order to play this season.