Transfers
Jean Michael Seri: The Man Utd target with Barcelona DNA and cold feet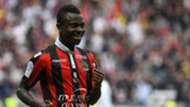 Five months ago, Jean Michael Seri stood on the cusp of achieving his dream. Barcelona had taken note of his talents and had opened negotiations with Nice over brokering a deal for the 26-year-old midfielder. 
Personal terms had already been agreed; it was only a matter of Barca getting the deal over the line.
It was a transfer that fell through, however, as a fee between the clubs could not be agreed, leaving the Ivory Coast international heartbroken. 
"I couldn't play for Nice this weekend as my head wasn't in football," he admitted to Mundo Deportivo in the aftermath of the breakdown. "My dream was to play for Barcelona, but that's been taken away from me – and it feels terrible."
While interest from Camp Nou seems to have cooled, temporarily at least, Seri remains a man in demand. 
Chelsea and Liverpool remain in the running for the midfielder, and while Jose Mourinho appeared to rule out any more signings at Old Trafford before the end of the window, a curveball from the Portuguese cannot be discounted, especially for a player tipped by a legend to be perfect for Barca.
Xavi, now 38 and in what he says is the final season of his career with Al Saad in Qatar, wants to see that return. After negotiations for PSG's Marco Verratti failed during the summer, he admitted he would love to see his old club turn to Seri.
"He would do so well at Barca. He can play anywhere in the middle. He is fantastic. He has what they call the Barca DNA," the Spain great explained to Le Parisien.
"I'm not used to seeing such talent in midfield any more. The short game, long game, tactical intelligence, long-range shooting, personality, organisation of the play..."
These words are the greatest compliment possible to Seri, who has attempted to model his passing game on the Blaugrana legend. 'Hidden passes' have become something of a speciality for the 26-year-old.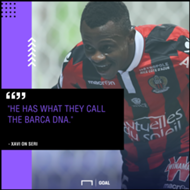 "Xavi did it all the time for Barcelona and I tried to copy him. It's a trick I've worked hard at and tried to master," Seri, who puts his technical ease on the ball down to the fact that he played barefoot for so long, confessed.
It was his intelligent backheel to set up Alassane Plea against Ajax that carried Nice to within a knockout tie of the Champions League. Napoli proved a hurdle too much for Lucien Favre's depleted squad, with even Seri's quality helpless against wholly superior opposition.
Even Nice's push for third place in Ligue 1 last season was influenced tremendously by their midfielder. Having started the season as one of the deeper players in a 4-2-3-1 formation, injuries to Wylan Cyprien and Alassane Plea forced head coach Favre to use him further up the field. In the tightest of spots, he came good, most notably scoring a fine winner against Nantes.
He finished the Ligue 1 campaign with seven goals and nine assists, quietly establishing himself as a key member of the side, even if it was Mario Balotelli who often caught the headlines due to his scoring and his history. But while the Italian's peak seems to have passed, despite his increasingly mature attitude and consistent displays, Seri's star is one that is very much on the rise. 
His qualities on the field are not purely offensive, however.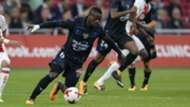 Defensively, he is a workhorse. His energy when it comes to ball recuperation is formidable and, combined with his stature, has been compared to Chelsea's N'Golo Kante. 
Seri is nether a Kante nor a Xavi, he falls somewhere in between, and that blend of skill and energy would make him a formidable asset to any side that can stump up the money to take him off Nice's hands.
England may not, however, be his ideal destination.
"I have ingrown toenails and when it's cold I need special treatment," he admitted to Le Point. "I don't see myself playing in a country where it's cold. I hurt everywhere and I struggle to train."
Cold, wet Wednesdays in Stoke may not be his thing, but that does not appear to have stifled interest from the likes of Arsenal, Liverpool and Chelsea.
A gentleman's agreement with Nice president Jean-Pierre Rivere - release clauses in contracts are illegal in France - meant that until July 15 of last year, he could have been snared for as little as €40 million. Now, however, the Cote d'Azur club are free to demand whatever price they see fit.
So far, no-one has been able to match their demands. When a buyer is found, though, Seri will leave with Xavi's seal of approval – and there can be few higher compliments of a midfielder.