I-League
I-League 2017/18: Chennai City requests AIFF for 'relegation immunity'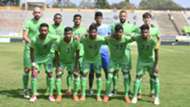 Chennai City FC (CCFC) are locked in a tight relegation battle with Churchill Brothers as they are curently placed eighth and ninth in the league table. CCFC have already finished their league campaign with 19 points from 18 matches, whereas Churchill have managed to rake up 17 points from 17 outings. 
Rohit Ramesh, owner of CCFC, confirmed to Goal that the club management had filed a request with the All India Football Federation (AIFF) so that they are granted relegation immunity for this season.
"Around three weeks back we had requested AIFF to grant us immunity from getting relegated. They (AIFF) said that they will look into our request once the league gets over. Till now no final decision has been taken," confirmed Ramesh. 
But taking a close look at the remaining fixtures, the apex governing body might be relieved of the task of considering their request as Churchill will be up against Minerva Punjab on the final match day (March 8). The Goa-based side must come out with nothing less than three points against Minerva to finish with 20 points, which will place them a spot ahead of CCFC.
On the other hand, the Warriors are gunning for their maiden league title and will be fully up for the challenge. 
On the other hand, if East Bengal manage to get six points from their last two games then they will also finish on 35 points. In that case the Red and Golds will become champions as they have a better head-to-head record against Minerva.