UEFA Europa League
UEFA Europa League final: The key men - Pedro Rodriguez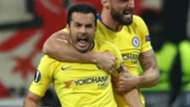 Chelsea, having progressed to the final of the 2018-19 UEFA Europa League final, now face familiar rivals Arsenal as they search for their third European title in seven years. 
Maurizio Sarri will count on Pedro Rodriguez to play a key role for the Blues in the wings as he has done throughout the season. The 31-year-old has been a regular this season in Chelsea's European sojourn and has notched up 873 minutes in 13 matches. 
The Spaniard has scored four goals in Europe and Arsenal's defence must remain wary of the threat that the former Barcelona man possesses. He has cropped up at vital junctures and has tilted matches in Chelsea's favour on numerous occasions. 
Pedro's best performance came against Slavia Praha where he scored a brace and also provided an assist to Olivier Giroud.
In the semi-final against Eintracht Frankfurt, Pedro found his scoring boots once again. Luka Jovic's brilliant header had put Frankfurt ahead in the early stages of the match and Chelsea needed to respond. Sarri's men were building up the pressure but a resolute Frankfurt-side held their fort. 
It was Pedro who broke the deadlock after receiving the ball from Ruben Loftus Cheek just inside the penalty box. Although there was a barrage of defenders in front of him he still found the gap to rifle a shot into the net and get a vital away goal. 
Relive Pedro's Europa League heroics in the video. 
Here's how to watch the UEFA Europa League final LIVE from SouthEast Asia