Mamelodi Sundowns v SuperSport United
Where does the Tshwane Derby rank among the local derbies?
On Wednesday night, the Tshwane Derby will once again excite, and this time, with a lot more bite as the Premier Soccer League (PSL) title contenders along with Orlando Pirates will watch with interest as Mamelodi Sundowns play catch-up and look to narrow the gap at the top.
Often, the Tshwane Derby has played second fiddle only to the more hyped up and bigger Soweto Derby, but Wednesday's game has all the making of a classic.
While football fans might not throng to Loftus Versfeld Stadium in the same manner as they do for the Soweto Derby, but one thing is for sure, quality and good football is a certainty.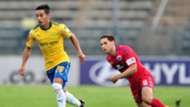 What makes or breaks a Derby is simply success, and the fact that both clubs have dominated South African football in recent years has been key to this fixture.
With SuperSport regarded as the Cup specialists and Sundowns turning into giants, not only in South Africa but on the continent as well.
This has led them to dominate the Derby, and even a record which has seen SuperSport last get one over their cross-town rivals in 2013, it has done little to take away any of the shine or make the Tshwane Derby predictable.
Meanwhile, aside from the obvious bragging rights that are at stake, the Tshwane Derby also allows younger players to impress their rivals and maybe even earn a move in the opposite direction.
There are not many derbies in the world which can boast as many players who have featured for both sides.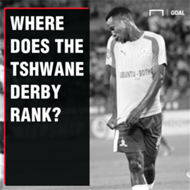 This sets up an intriguing battle on the pitch, and while things are cordial and friendly off the field, the Tshwane Derby tends to draw out intense emotions.
This is perhaps similar to the Ikapa Derby between Cape Town City and Ajax Cape Town, and the Limpopo Deby between Black leopards and Polokwane City which are cordial but fierce on the field. 
Finally, a key factor in terms of the Tshwane Derby's value is that there are only two clubs in Tshwane unlike in many of the other major cities, and both clubs have been in the top flight for some time.
This has allowed a rivalry to grow and mature which creates the hype on its own and with not too much effort.  
In football, there are derbies and rivalries and not all derbies happen to be rivalries, but the Tshwane Derby is undoubtedly a derby where neighbours have turned into rivals.