Premier League
Guardiola & Conte play down tunnel bust-up as new details emerge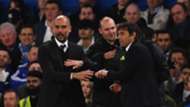 Pep Guardiola and Antonio Conte have moved to play down the tunnel bust-up following Chelsea's victory over Manchester City in midweek, despite new details of the row emerging.
WATCH: Costa causes havoc with a tractor
Goal understands Chelsea fitness coach Paolo Bertelli sparked the incident by goading the City staff in Italian.
City sources insist the phrase was "we f***ed you up the a***", though a Chelsea spokesman insists those claims are "utter nonsense, he said nothing of the sort".
City masseur Mark Sertori, who is half Italian, reacted and confronted Bertelli, and it is believed Chelsea defenders Gary Cahill and Cesar Azpilicueta were also involved.
Guardiola then joined in, with the Catalan seen shouting angrily at Chelsea's chief aggressors in a heated exchange.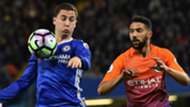 The spat did not get physical, however, and was quickly defused.
'Lukaku will cost Chelsea £90m'
Speaking at his Friday press conference Guardiola insisted it was "nothing".
"Yeah the tunnel in Chelsea is so tight. It's so tight," he said. "Come on, nothing. We congratulate Chelsea for the victory. We are so polite in our defeats, and especially we are so polite when we win, especially that," he added, perhaps pointedly.
Chelsea boss Conte was not involved in the incident, though he did take a similar tone to Guardiola by pointing out that "both teams must accept the result and show respect".
"The respect is always important," he said. "I think this is the most important thing in football.
"I think there is a winner and there is a loser, and both must accept the final result and show respect.
Wenger: Alexis doesn't want to leave
"Honestly I didn't see anything because I was in the changing-room to stay with my players.
"I didn't see. But it's not important, what happened in the tunnel. What is most important is what happened on the pitch. I think a lot of people enjoyed this game, Chelsea against City, and that is the most important thing for us.
"I think a lot of people enjoyed this game, Chelsea against City, this is the most important thing for us."