United States
Arena kicks off second tenure as U.S. coach with start of January camp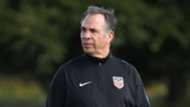 CARSON, Calif. — After days of uncharacteristic rain and dark clouds, the skies above StubHub Center finally opened up Wednesday morning and flashed the sunlight visitors come to expect when visiting the Los Angeles area. The timing was fitting given that splash of sunlight came just as a new dawn began for the U.S. national team.
Bruce Arena put the U.S. through a pair of training sessions Wednesday, kicking off the January training camp that marks the beginning of his second run as national team coach. The mood was light and relaxed, and Arena was in good spirits.
The players with the most to gain in U.S. January camp
"I'm having the time of my life," Arena said with a wry smile when asked what this second go-around has been like. "I haven't had to move. The hotel is a five-minute drive from my house. I've been coming here for the last eight years. I had to move 30 yards from my past office, so life could be worse."
Jokes aside, Arena doesn't have to stress how important this January camp is for the collection of new faces mixed in with the handful of established national team veterans. Not only is there a race to impress Arena and move up the depth chart, but the team's tenuous position in World Cup qualifying has put an added importance on this January camp as Arena searches for potential starting options for his full team ahead of vital qualifiers against Honduras and Panama.
"All January camps have games attached to them at some point," Arena said. "However, I think with the urgency we have in March, close to the end of the month, it's really pushing the group very hard and making the right evaluations necessary to get a good look at all of the players and try to evaluate who can help us in March, so this is important."
Nearly an hour & a half of training this morning had the #USMNT off & running.

Top from Arena's first workout: https://t.co/jWbthRWBA2 pic.twitter.com/CxPePnpIVp

— U.S. Soccer (@ussoccer) January 12, 2017
"Everybody knows the situation," U.S. midfielder Michael Bradley said. "It's exciting again to get going. Anytime there's a new coach, it gives the whole thing new energy, new life. I can see it in everybody's eyes that we're excited for the next few weeks."
Bradley is one of a handful of players to have earned national team caps during Arena's first stint in charge of the team. In fact, it was Arena who gave Bradley his first caps back in 2006, during the send-off series prior to the World Cup. A decade later, Bradley is one of the unquestioned leaders of the national team, while a new batch of new faces look to impress.

"Obviously, it's day one — there's only so much you can do early on," Bradley said. "But right away the mood, and the spirit, and the mentality was very good."
Arena has plenty questions that need answering in this January camp. For starters, a search for effective attacking midfielders is underway, with Sacha Kljestan, Benny Feilhaber and Darlington Nagbe in camp with a chance to stake their claim. A need to boost the fullback options, as well as depth at goalkeeper, also will be on Arena's to-do list in the weeks ahead before friendlies against Serbia and Jamaica.
The refreshing part for the players in camp is a sense that Arena has come in offering everyone a clean slate, and he is ready to give everyone a fair shot at earning a regular place with the national team.
"I told them before training that I don't think anyone is winning a starting position in today's training session," Arena said. "But, as far as I'm concerned, I have an open mind about how we're going to look at this group and the other players in this pool as well."