Manchester United
Mourinho: Impossible for Man Utd to play better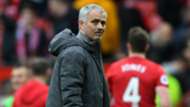 Jose Mourinho says Manchester United could not have played any better than they did in Thursday's 1-1 draw at Rostov in a Europa League last-16 first-leg tie.
Mourinho won't play reserves at Chelsea
A goal from Henrikh Mkhitaryan had the visitors 1-0 up by half-time, but Aleksandr Bukharov equalised in the second period as the Russian side earned a draw.
While United did not leave with a more commanding advantage, Mourinho was happy with how his players got on in a tough stadium, but warned they cannot afford to slip up in the return leg, which falls just a few days after their FA Cup game against Chelsea.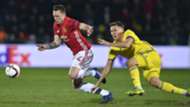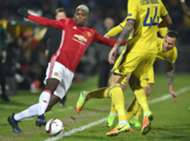 "It was a very good performance in relation to the conditions," he told reporters. "It was impossible to play better, impossible to play a passing game. We played what the game demanded and we played well. We made one defensive mistake. 
"We have an open result for the second leg with a little advantage for us. There are no injuries. I think we had a positive result. We know we need to win or to have a 0-0 draw so the game is open, the tie is open. But, in these circumstances, I think it was a good result.
"The game plan was that we know they don't try to play - they tried to put the ball always to the front, into their strikers. That's the way they play on this pitch and so the best thing to do was to play three at the back. Our three central defenders had a very positive game. The midfield fought for the second goal and tried to give something in attack.
"An away goal is always positive; it's better 1-1 than 0-0, obviously. But the game is open, the result is open and this Rostov team has experience of playing big matches, big opponents, big stadiums. I don't think it's a problem for them to go to Old Trafford and play us. 
"They play Sunday against Terek Grozny, we play Monday against Chelsea - they know they have more time. It's more difficult but we are one step from the quarter-finals. Old Trafford will push us and hopefully we'll get to the quarter-finals."
The goalkeeper who fed his girlfriend to dogs
As the Red Devils sit 17 points behind Premier League leaders Chelsea, the Europa League is seen as their biggest shot at glory this term, but Mourinho is still intent on a top four finish as well as continental success.
"We have to keep getting points in the Premier League to keep our chances open and if we get through the knockout round here, we're in the quarter-finals and feel the door is open," he added.
"So we have to try. We have a trophy in our pocket, which is a good feeling for everyone. Now we have the Premier League for the fight for the top four and we have the Europa League fight for Rostov."