Transfers
Wright: Arsenal transfer deals all feel 'panicky'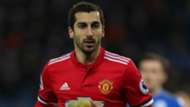 Former Arsenal star Ian Wright believes the Gunners lack a cohesive plan in the transfer market, and are instead making panic moves. 
The London club are nearing a sale of Alexis Sanchez to Manchester United, with Henrikh Mkhitaryan reportedly set to head the other way.
Theo Walcott is also on the verge of being sold to Everton, and the Gunners are being heavily linked with Borussia Dortmund striker Pierre-Emerick Aubameyang. 
Yet Wright feels as though the club are making moves in a state of panic rather than actually planning out their future. 
"Everything that is happening is being forced on them through other people," he said on a Sky Sports podcast.
"Mkhitaryan is not a player Arsenal have been after - he's a player that Arsenal have been handed.
"It's the same with Aubameyang - a couple of years ago, he was on everyone's radar but now he's gone a bit cold. Then all of a sudden, he's on Arsenal's radar - it all feels panicky for me.
"Of course they are both quality players. But if you are losing Sanchez, you need players that will hit the ground running. I'm not sure about Mkhitaryan's state of mind right now."
Goal understands that Arsenal's pursuit of Henrikh Mkhitaryan hinges on whether the attacker is paid off by Manchester United due to his contract running for another two years. 
Mkhitaryan's agent Mino Raiola also claims that the Armenian is key in any deal for Sanchez. 
"Manchester United are not going to sign Sanchez unless Mkhi agrees to join Arsenal," Raiola told The Times.
"Mkhi is going to do what is best for him. He has two-and-a-half years left on his contract, so it's his decision."
Arsenal take on Crystal Palace on Saturday in the Premier League, with the Gunners looking to close the gap on the top four. 
Arsene Wenger's side are currently sitting sixth in the league table, eight points back of fourth-placed Chelsea.