Videos
Wilshere: If I met my hero Drake I wouldn't know what to say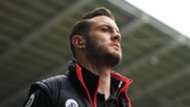 Jack Wilshere has had to cope with plenty of superfans in his day, but the Arsenal-owned Bournemouth star admits that if he met his hero, recording artist Drake, he wouldn't know what to say.
Wilshere revealed that a lot of the Cherries dressing room are Drake fans, with his music and lyrical content easily relatable for the midfielder's generation.
In fact, a crew of the boys recently went on a team bonding mission to one of his shows -  check out the England international talking all his musical influences in the full video above!
Footage courtesy of Kicca.