Arsenal
Wenger on Overmars to Arsenal links: I like him!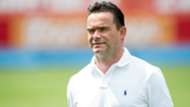 Arsene Wenger has insisted he likes Marc Overmars but refused to give a definitive answer when asked about reports that he could join Arsenal as a director of football.
The former Netherlands international, who works in a similar sporting director role for Ajax, suggested that was under consideration over returning to the north Londoners.
Overmars the wrong man for Arsenal
And Wenger, who come under increasing pressure during what has been a disappointing 2016-17 campaign for the club, suggests that Overmars could well be a candidate.
He told reporters on Friday:  "I like Marc Overmars but he's director of football at Ajax.
"I'm sure there are plenty of other candidates - I'm not worried about that.
"You spend a lot of time focusing on things that are superficial. In football, it's about one thing: good players on the football pitch. That's what you have to take care of."
Arsenal face Middlesbrough in the Premier League on Monday and Wenger has admitted that both Petr Cech and Laurent Koscielny could return from injury.
He added: "We have a chance to get Cech back in the squad and Koscielny is training. If the tests are positive then they will come back in the squad.
Ozil shelves Arsenal contract talks
"[It's an] 80 per cent chance. At the moment it's pretty good but sometimes the 20 per cent plays the villain part in preparation."
The Gunners are currently in sixth place in the Premier League table, seven points behind Manchester City in fourth.