Bayern München
Wenger admits he misses coaching amid Bayern Munich links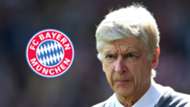 Arsene Wenger says he misses coaching amid links with the Bayern Munich role.
The Frenchman seemed set to retire from management at the end of last season, as he left Arsenal after 22 years in charge.
However, reports from around Europe claim that he is interested in the possibility of succeeding the beleaguered Niko Kovac at Bayern, with the Bavarian giants currently nine points off the pace in the Bundesliga.
And, speaking at Etoiles du sport, an annual meeting between young French sports stars and veterans of the game, he says you can "lose a lot of energy" being outside of football.
"I did not come here to talk about my future, but I still have dreams," said Wenger in Tignes. "It's not over.
"There are different ways to train. I can coach young people, but I still have the physical strength, I still want to do it, because I have acquired a lot of experience, so not sharing what we have learned with others makes life a bit less interesting.
"I miss the pitch, of course. What I miss is what's around it. Over the last 20 years, the time you spend on communication has become much more important. The staffing has become huge and a lot of energy is used up in what is not really your passion, but we are always ready to pay the price to be able to play for this hour-and-a-half on the pitch."
Two trusted lieutenants of his time in charge at Arsenal - Thierry Henry and Patrick Vieira - are attempting to make their own way in coaching, with Monaco and Nice respectively, and Wenger believes they will both thrive in the dugout.
"They are two men who have had a full life and passed through the barrier today," he added.
"It's a pleasure. They are people who will pass on what they have learned in their careers and they will influence the lives of the players who are with them.
"At least I did not disgust them with the job. That's not bad."
Meanwhile, Wenger is not surprised by Paris Saint-Germain's domination of Ligue 1, where Henry and Vieira are managing, given their excessive transfer spending.

"A championship more easily reflects the real value of the teams. Modern life means that there is more concentration of players in a small number of units.
"We see it on an economic level and on a football level. The best players are grouped today in five or six clubs. The unpredictable side has a disappeared a little in modern football."