WTF
VIDEO: Studs Up is back for episode seven!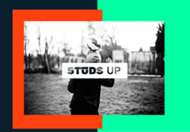 Studs Up is back!
This week the team were joined in the studio by AJ Tracey, who helped to look ahead to the weekend's Premier League games, such as Crystal Palace vs Arsenal and Manchester United's visit to Sunderland.
Plus, there was all of the usual fun and games, including the Worst of the Week and the Pressure Index.
Studs Up airs every Thursday at 8pm (GMT) on Facebook. Join us in taking a lighter look at the world of football!
To make sure you don't miss the show, register your interest on Facebook and we'll let you know when Studs Up is going live.