Videos
VIDEO: 'Japanese Messi' becomes J-League's youngest scorer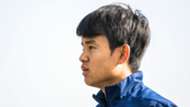 Takefusa Kubo wrote himself into the history books as he became the J-League's youngest scorer, still a month and a half short of his 16th birthday.
Ozil: I turned down £100m CSL move
Playing for FC Tokyo's Under-23 side in a third tier match, the youngster danced into the box before launching a powerful drive off the underside of the bar, off the opposite post and into the net. It proved to be the only goal of his side's win against Cezero Osaka's U23s.
At 15 years, 10 months and 11 days old, he has beaten the mark of the previous youngest marksman, who was Takayuki Morimoto.
久保建英 のスーパーゴール!
久保が15歳10ヶ月11日のJ最年少ゴールを決め、#FC東京U23 が先制。
C大阪U23×FC東京U23は https://t.co/u4BaoHt81Q でライブ中@fctokyoofficial pic.twitter.com/CmOMH7ZXZq

— DAZN ダ・ゾーン (@DAZN_JPN) April 15, 2017
Kubo, meanwhile, has previously trained with Barcelona's youth team, where he earned the moniker of the 'Japanese Messi'.