Videos
VIDEO: Head collision leaves Wuytens with nasty cut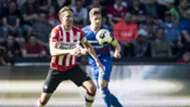 PSV's 5-0 trouncing of Willem II brought many exciting moments, but it had its brutal moments too.
Before Nicolas Isimat-Mirin opened the scoring, the visitors lost defender Dries Wuytens when he collided with striker Obbi Oulare, on loan from Watford.
As a PSV free-kick cross flew towards the far post, the two players went for it at the same time, with Oulare clearing it only to feel Wuytens' head smash into the back of his.
The collision knocked both players down but Wuytens came away worse with a cut above his eye, leading to his substitution while Oulare played on until the late stages.