Videos
VIDEO: Dozy Romero scores awful own goal for Belgrano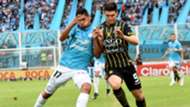 Belgrano teenager Cristian Romero has been tipped for a very big future - but he needs to keep his head out of the clouds! 
The 18-year-old defender, who has been linked with a move to Atletico Madrid, was left red-faced on Sunday as his side went down 2-0 to Banfield in the Primera Division. 
Romero seemed content to watch a venomous cross sent in from the right, trusting in goalkeeper Enrique Bologna to claim the ball. 
Much was his surprise, then, when it hit him on the back of the head and spiralled into the net, marking Banfield's second of the game against the struggling Cordoba side!