Premier League
VIDEO: Carrick pranks a young Man Utd fan!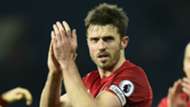 Michael Carrick could be considered by some as the ultimate 'sensible' footballer, playing it safe and simple in possession.
Man Utd debt shoots up by £71.6m
But it seems like he's got a much more mischievous side off the pitch!
The Manchester United midfielder was taking part in a '#SchoolsUnited' event for the club's charitable foundation on Wednesday and lined up alongside young children as well as his team-mates.
And the 35-year-old couldn't resist trying out an age-old prank by confusing the youngster standing in front of him.
Classic schoolboy prank from @carras16 at today's #SchoolsUnited event pic.twitter.com/Ho8AP5FCgy

— Man Utd Foundation (@MU_Foundation) February 8, 2017
It might not have been the most original gag that he could have pulled off - and the boy to his right doesn't seem very impressed by being framed - but Phil Jones certainly enjoyed it!