Pierre-Emerick Aubameyang
VIDEO: Aubameyang shows off glow-in-the-dark hair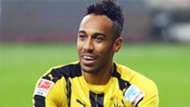 When it comes to footballing haircuts, Paul Pogba is generally the man to turn to for weird and wonderful creations.
'Neymar better than Messi & Ronaldo'
But Pierre-Emerick Aubameyang could be about to rival the Manchester United midfielder after revealing his latest hairstyle.
The Borussia Dortmund striker has had glow-in-the-dark stars painted into the side of his hair, which can be seen in action in the video above.
Check out Aubameyang's new hairdo and let us know what you think!