Videos
VIDEO: Assmann produces cinematic one-handed save for Velez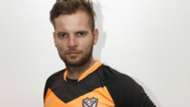 Velez Sarsfield may have come unstuck against Boca Juniors in their most recent outing, but Fabian Assmann cannot be accused of a lack of effort.
The Argentine goalkeeper conceded three times to find himself on the wrong end of a 3-1 scoreline, but he did his best to put on a show and keep his side in the contest.
WATCH: Goalie howler of the season?
With Velez trailing by just one midway through the first half, Assmann produced an acrobatic stop to deny Pablo Perez.
Did he need to throw himself into the air and parry the ball inches over the crossbar using just one hand?
No, probably not, but why not put in a performance for the cameras if you're put in a position to do so!