United States
USMNT player ratings: Weah and Sargent steal the show in win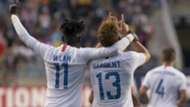 In their first ever starts for the senior team, Josh Sargent and Tim Weah gave fans of the United States national team something to get excited about.
Sargent, making his debut, linked up well with the Paris Saint-Germain man, and then channeled Karim Benzema in the Champions League final, as he created a goal by pressing Bolivia goalkeeper Carlos Lampe into an errant pass he intercepted and finished off for the USA's second goal.
Weah, meanwhile, was everywhere in the first half, getting involved in most of his team's best chances. He was unable to deliver on a 1 v. 1 chance in the first half that was reminiscent of an opportunity he missed in his PSG bow, but did not squander an Antonee Robinson cross in the second half to get his first senior team goal.
It was a solid performance for the Americans, though caution is warranted. Bolivia was poor on the evening and struggled to get forward or mount much pressure on the ball. Sterner tests await against Ireland and a World Cup favorite in France in upcoming friendlies.
But for one night, the fans could enjoy a glimpse of players who hope to be a big part of the nation's future.
Here are Goal's player ratings for the U.S. national team's friendly against Bolivia:
GK Alex Bono, 5: Had next nothing to do as Bolivia rarely ventured forward. He did have to direct traffic a few times on a couple of corners.
D Eric Lichaj, 6: Was free to get forward a bit, though most of the attacks down his flank came from Weah. Didn't make a mistake. 
D Walker Zimmerman, 7: Zimmerman did not need to do much defensively, but made a big intervention that sprung the Americans' best chance in the first half. Later, he delivered a thunderous header off a corner to give the U.S. the opener.
D Erik Palmer-Brown, 6: Had very little to do in his senior team debut.
D Antonee Robinson, 6.5: Did very well offensively, creating chances and was rewarded with the assist on the third goal. Defensively he recovered well but was caught flat-footed a few times and might have been punished against a better side.
M Weston McKennie, 6.5: Placed as the deepest midfielder, McKennie did not have a lot to do against a side that didn't venture forward much. Did create a chance for Sargent in the first half with a nice tackle up the field.
M Joe Corona, 7 : Of the midfielders, Corona did the best of linking up with the forwards. His delivery on the corner Zimmerman scored was excellent as well.
M Christian Pulisic, 5: Pulisic seemed a step off the pace all night, as he struggled to link up well with the players in front of him. Continued to work throughout, however.
F Tim Weah, 8.5: Was involved in almost everything the U.S. generated in the first half, though he did spurn a great chance early with a shot saved. Did not miss his second great chance in the second half to open his senior team account. Linked up well with his teammates.
F Josh Sargent, 8: Had a touch of nerves early but settled down well. Had a marvelous solo effort to pressure Lampe and win the ball, then finished his chance for a debut goal. Linked up well with Weah.
F Rubio Rubin, 7: Had some excellent first touches to create space for himself. His best moment was great pass to set up Weah for a chance that the PSG man could not finish. A solid effort on the left.
Substitutes:
D Matthew Olosunde, 5: Had an easy game to debut in, as the Manchester United youngster did not have much to deal with with Bolivia not generating an attack.
D Jorge Villafana, 6: Came on only for a brief cameo but could have had an assist after he delivered a dangerous ball to Gooch in stoppage time.
M Keaton Parks, 5: Certainly was not shy as he unleashed a couple of shots from distance, getting one on target and the other well wide. Didn't have much to do defensively.
F Julian Green, 7: Of the U.S. substitutes, he was by far the most active, getting involved and creating opportunities for his teammates.
F Lynden Gooch, 5: Had a glorious opportunity to score in stoppage time, only to have it blocked and then had his rebound deflected out.
F Andrija Novakovich, 5: His best chance was denied by an incorrect offside decision which would have had him in on goal. Otherwise did not do all too much.