USL Championship
USL President Edwards: Division II sanction 'validation'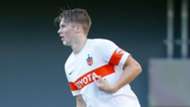 The USL feels its achievement of second-division status in the U.S. Soccer pyramid is validation of hard work, but president Jake Edwards says his league is focused on its own growth, rather than on the NASL's.
The USL had been the third division, below MLS and the NASL. But with the recent uncertainty surrounding the NASL, the USL made its bid to supplant that league as the USA's second division.
U.S. Soccer decided to grant co-Division II status to both the USL and NASL, and though such a move may look disappointing for the USL, Edwards told Goal he and the league owners feel it's "validation."
"It's something we've been working on for a good two years," Edwards said. "It was a big component to a strategic larger-term plan. We've held back on a couple of initiatives, specifically around broadcasting, commercial and strategic partnerships domestically and internationally until we had the Division II sanctioning, because we felt that was going to give us a platform to launch some of those initiatives in a better way or a more successful way than at a third division level.
Galaxy have 'a chance' to sign Zlatan
"It's validation of the investment and hard work of the club owners over the last number of years."
A second-division status in the USA remains different than it does in many leagues worldwide because of the absence of promotion and relegation. That means teams in the NASL and USL are no closer to MLS than they were last season, regardless of what their division designation is. However, Edwards disputed the idea that the designation was just a name
"When you're going into media rights space or national commercial partnerships, or even strategic partnerships with other leagues and clubs around the world, when you're talking about attracting quality players and coaches, the perception of differentiation between a third and second division, even if it's not a merit-based structure or pro-rel, it's still there," Edwards said.
"We've spent a lot of time looking at it and researching it with outside agencies and working with our clubs. It has a real tangible benefit in terms of franchise value, the ability to monetize the different revenue levels, generate income through sponsorship, ticket sales, attendance and all that. All those things, it does have an effect on the ability to continue to make investment, from an ownership point of view, into infrastructure."
Going forward, Edwards says the league has plans to continue its expansion. It is shooting for a three-conference structure, which it hopes to roll out "sooner rather than later." He also touted the league's ability to be picky with its expansion candidates, requiring a soccer-specific stadium and a youth academy within three years. He also indicated the USL will announce more expansion sides over the course of the season, with Nashville already set to come into the league next year.
Pulisic plays best match of his career
As for the situation with the NASL, Edwards says he isn't concentrating on how they do things and is instead worrying about his own league.
"We've focused on trying to deliver professional soccer in the most excitable, sustainable and honest way we can," Edwards said. "That's all we can do. We've worked hard to meet all these standards. There's still a couple of things we need to work on and we're going to be focused on that over the next 12 months and we'll be working with the federation. But the rest of that stuff is out of our hands, so we're just focused on what we're doing."