Thorgan Hazard
Thorgan Hazard emerging as Bundesliga star at Gladbach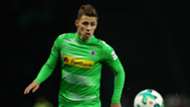 If Thorgan Hazard has ever felt stuck in his brother's shadow, he can be assured he is breaking out into a light of his own at Borussia Monchengladbach.
The 24-year-old winger's career has gone on a different trajectory to Eden's since they moved from France to Chelsea in 2012. While one immediately cemented himself as a Premier League star, the other saw his time in London come to an end without a first-team appearance in three years.
In his two seasons with Zulte Waregem and a loan made permanent at Gladbach, the younger Hazard's development has continued and he is thriving in the Bundesliga this term.
The most productive attacking player for a side sitting fourth in the table and hopeful of a European spot, he is back on the road to top-flight stardom.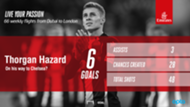 Although he failed to get a goal or assist in his first three games of the season, he deserved more for his efforts as he stayed lively around the box and helped build attacks. His persistence has been rewarded in recent weeks, having been involved in a goal in each of his last five games.
Dangerous as he moves into the centre to send team-mates through with neat passes from around the box, only four players have created more chances in the Bundesliga, though he has just three assists in the league and DFB-Pokal.
As a winger, he often stays out wide and whips crosses in, but he is also a direct threat. Pierre-Emerick Aubameyang and Robert Lewandowski are the only Bundesliga players who have had more shots, and he is not reckless with his attempts either – only eight of his 35 have come from outside the box. While all but two of his five goals have been penalties, he has been unlucky in the box at times.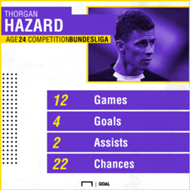 "He likes to play with his style, he's very strong and a persevering player who can always create situations, so I'm thrilled with Toto this season," coach Hecking told Rheinische Post.
It makes Hazard suitable for many attacking positions. He is Gladbach's best winger regardless of which side he plays on – he started the season on the left but was moved to the right in recent weeks – and has filled in as an attacking midfielder and striker. It allows Hecking to adjust their style during matches, just as he did at Hertha Berlin last week.
Hazard held his position on the right in the first half – in which he scored a penalty – but was freed up to move inside in the second period before sticking to the left wing for the final 15 minutes as they went on to seal a 4-2 win.
As Die Fohlen sit fourth in the German top flight ahead of Saturday's game with leaders Bayern Munich, Hazard is crucial to their hopes of narrowing the eight-point gap.
He was linked with Arsenal in the summer and his form this season has made the presence of a Chelsea buy-back option on his deal a big talking point, and a return to Stamford Bridge does not seem impossible to Hazard.
"I don't even know if there is a buy-back clause," he said. "My father is taking care of this now. Sometimes I hear that there is one. Here, they're saying there isn't.
"It's not that I don't care but I don't even think about it… If Chelsea want me, they'll pay for my transfer and just pick me up. The clause is only a detail."
His current contract lasts until 2019, but there is an option for a further year and he is concentrated only on shining for Hecking's team instead of considering another move.
"At the moment, I'm good here. I'm not busy with a transfer," he told Het Laatste Nieuws. "I still have time. It's not like I'm 30 and want to discover something new. We will see what happens in the coming years."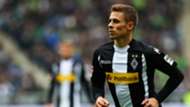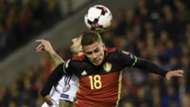 At this rate, he could grow into a talisman for Gladbach as they look to mix among the Bundesliga's top-four teams and has set his sights on becoming more productive. Modest about his potential, he doesn't expect to reach the same heights as his brother.
"I think there is still a gap between us. And I think there will always be a gap between us," he told Onze Mondial.
"Already, there is one who plays for Chelsea and is one of the best players in the world. And there is one who tries to be one of the best players on his team. Quite simply. In a Bundesliga team. It's good, but you have to be reasonable. Everyone has their place."
One place he expects to be given is in Belgium's squad for the World Cup. Although a three-year absence followed his 2013 national team debut, Hazard has become a regular in the squad this year and is earning more playing time under Roberto Martinez.
Last month, he scored his first Rode Duivels goal and completed 90 minutes for the first time against Cyprus, then played the full match against Japan.
"If I'm not in the final squad at this moment, then I will be even more disappointed, because my performances have improved and my status in the national team has changed over the past few months," he said.
He is yet to cement himself as a crucial player, but he has time to climb up the ranks of Belgium's squad for the competition if he continues to progress.
Eden's level as an elite star may be beyond him, but Thorgan is certainly carving out an impressive career for himself in Germany.