Manchester United v Tottenham Hotspur
The Pressure Gauge: Can Man Utd shift Mou's blues versus Spurs?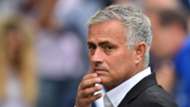 Simply, "No," was his answer to one question. "I don't analyse with you my players," he fired back to another.
Manchester United manager Jose Mourinho was once again in no mood to talk to the media this week. The open section of his press conference ahead of Monday's clash with Tottenham Hotspur lasted less than five minutes.
Last weekend's hapless 3-2 defeat at Brighton captured the mood around Old Trafford; be it cause or effect – most likely a little of both – smiles are very much at a premium on one half of Manchester right now.
Mourinho, still furious at his club's lack of activity in the transfer window, has kicked off his customary third-season blues nice and early.
Mauricio Pochettino, meanwhile, has complained little after his side became the first in Premier League history not to make a single signing in the summer transfer window.
The moods in the respective camps ahead of Monday's clash were summed up neatly when each manager was asked about the other.
"For every single manager who is younger than him, he was an inspiration," said Pochettino. "He is an unbelievable manager."
When asked about his opposite number, Mourinho simply replied, "I'm not going to comment."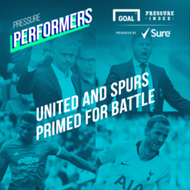 But at least his side's recent record against Spurs provides some at the club a reason for some rare optimism. The Red Devils have won 21 of their 26 home Premier League games against Spurs (D3 L2), winning each of the last four without conceding a goal.
Indeed, Spurs have won just nine points in 26 trips away at Manchester United in the Premier League (W2 D3 L21) and lost more away matches at Old Trafford (21) than any team has lost away from home at a stadium in the competition's history.
Pochettino will be desperate to arrest that record, however, as he seeks out his 200th win as a manager - 123 of which have arrived at Tottenham.
After winning his first seven managerial encounters with Pochettino in league competition between September 2010 and December 2014, Mourinho has only been successful twice in his last six league games against the Argentine (W2 D1 L3).
And, since taking over at United ahead of the 2016-17 Premier League season, Mourinho has guided his team to 153 points – 16 fewer than opponents Pochettino's Spurs.
History, then, is most certainly in Mourinho's favour; but can his players overcome the solemn, increasingly divisive atmosphere their manager is ostensibly instilling all around them? Or is it all just another one of Mou's tricks?
Either way, the stakes are high. The pressure is on.
The Goal Pressure Index is presented by Sure, Official Partner of Chelsea FC, Everton FC and Manchester City FC. Join the conversation on Twitter @Sure.