MLS
The MLS Wrap: FC Dallas dominates draft, LAFC didn't rely on combine and more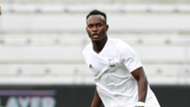 If you had made a list of teams most likely to be wheeling and dealing at the 2018 MLS draft, FC Dallas wouldn't have figured to be near the top of that list. After all, FCD has spent the winter making a plethora of homegrown player signings, adding to an already stocked cupboard of young talent.
That didn't stop Fernando Clavijo and Oscar Pareja from seeing an opportunity though, as they bolstered their wide forward options by snagging a pair of dangerous wingers who were considered among the best attacking talents in the draft.
Los Angeles FC was also rewarded for its draft-day aggressiveness, landing the two best fullback prospects in the draft before taking a potential steal in Barcelona academy product Pol Planellas. 
The wheeling and dealing in MLS wasn't confined to the draft-day proceedings in Philadelphia. Atlanta United secured the biggest transfer acquisition in league history in Ezequiel Barco, while the Philadelphia Union made up for not having a first-round draft pick by pulling off a blockbuster trade with the Chicago Fire for Ghanaian winger David Accam.
Here is a look back at some of the key takeaways from the MLS draft:
---
FC DALLAS NABS IMPRESSIVE DRAFT HAUL
---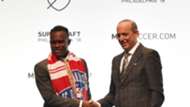 When the MLS draft began, Oscar Pareja was hoping for a bit of luck. He went into the draft coveting speedy wingers Francis Atuahene and Ema Twumasi, and was hoping he might be able to land one of them with the 11th overall pick. It seemed a long shot considering Atuahene went into the draft as a top-two talent and Twumasi was a top-five prospect before a disappointing combine hurt his stock a bit.
That was before LAFC traded into the third spot and selected fullback Tristan Blackmon, leaving Atuahene available at the fourth pick, which was held by a team in Montreal that was looking to trade the pick. Pareja and Fernando Clavijo acted quickly, sending $200,000 in general allocation money to the Impact for the pick, which they promptly used on Atuahene, a game-changing left winger who could give the team some needed speed on the flank.
FC Dallas only got better when Twumasi tumbled out of the top 10, landing at 11, where FC Dallas selected him to partner with fellow Ghanaian Atuahene, who he had already developed a friendship with well before the draft.
"I wanted at least one of the two today, which is why we moved up and we got Francis. I was surprised that I was also able to get [Twumasi] at 11," Pareja told Goal. "They were both in my top three, and after we got Francis I thought it was mission accomplished, but when I saw Ema 11 it was great."
With Atuahene on the left and Twumasi a right winger, FC Dallas suddenly has some good options behind established starters Roland Lamah and Michael Barrios. And as much as college players can be tough to project, Pareja feels confident about their ability to make the transition.
"These guys have been in the (American soccer) system, so it's great for me knowing they already know the country and culture and have already adapted to it and are performing," Pareja said. "That's gold for me because sometimes we bring in players from overseas, from South America, and it's a challenge."
Just a year removed from having seen a big-money signing fall flat in Cristian Colman, FC Dallas felt good enough about its scouting of the top college talent to see the value in dealing some of the targeted allocation money that has recently flooded into the league. it was that increased TAM that helped turn the 2018 MLS draft into a trade-fest, and ultimately helped FC Dallas come away as big winners.
"There's a lot of (TAM) money and people don't know what to do with it. They were throwing money all over the place," Clavijo told Goal. "I knew there was going to be a lot of dealing, and that this might set up some new prices by teams trying to move up. At the end of the day, i think the teams that really did the work were the ones who drafted well."
FC Dallas came away with a very impressive haul that also included some shrewd second-round picks. SMU forward/midfielder Mauro Cichero would have been a top-20 talent in this draft if not for a torn ACL suffered last fall, giving FC Dallas a chance to grab a player it knows well. Georgetown midfielder Chris Lema — a New York Red Bulls academy product — was considered a first-round talent by many teams and should offer some depth in a central midfield role.
FC Dallas fans might be wondering just where these young players will play given the fact their team already has a boatload of homegrown players who also need minutes, Clavijo insisted he was confident the youngsters would have a chance to develop, and also confirmed that the team plans to launch its own USL team in 2019.
"We'll definitely have (a USL affiliate) next year and we'll definitely find our young players a place to play this year," Clavijo said.
---
LAFC'S FIRST DRAFT IS A PROMISING ONE
---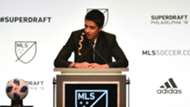 Joao Moutinho didn't have the best second day of the MLS combine, and some observers didn't think much of his third day either. That aside, there was still a clear consensus that from a pure quality standpoint, the young Portuguese defender had something special.
Bob Bradley maintained that belief even after those lackluster showings. 
"Wherever you go to watch games, whether you're in South America or in Europe or at the combine, one of the things you try to figure out is how good is this kid," Bradley told Goal. "There are bad games that still ask a lot physically. That happens at the combine. That happens in some of the games in South America. If you go to a game in Uruguay on a day where it's not in one of the better stadiums then the field might not be good. When I see Diego Rossi in some of those games, even though he's young and not big, I see the way he handles himself. If I see him in a good game on a better field I get a better sense of some of the football qualities on the day it's not happening.
"It's the same at the combine," Bradley added. "Are you going to be able to assess every aspect of a player in terms of footballing ability? No chance. The games aren't good enough. They don't know guys, they're thrown into different situations. There's no real roles, no tactics, but you look for little things. You look to see if a guy looks over his shoulder, if there's a play that's around him does he think faster than everybody else or is he one second behind. You can still find things to look at, but in terms of the pure quality of the game, you can put Xavi in some of those games and everybody would be saying he's not good enough or something. You have to understand what a game's about."
There wasn't much working against Moutinho heading into the draft, but the biggest question mark was just where did he fit positionally. Small for a center back and potentially lacking athletically as a left back, Moutinho doesn't fit in anywhere as a prototypical player, but Bradley seems immense potential that he's looking forward to unlocking.
"We'll see where he plays," Bradley said. "He played as a left back for 10 years at Sporting. To give him credit, when he went to Akron they said 'We'll use you as a center back,' and he never complained and he showed people that even if he's a young guy who hasn't fully matured yet that his football brain helped him deal with everything.
"There's all sorts of possibilities," Bradley continued. "He's got good football in him. You get a good footballer in a better enviroment and start to open up his mind a little bit about areas where he can improve and you usually have something."
Neither Moutinho or Blackmon will be expected to step in and start from day one — LAFC has already signed a pair of veteran fullbacks in Jordan Harvey and Steven Beitashour — but the draft picks have the sort of qualities that offer a glimpse into the kind of team Bradley is hoping to build in the long term.
"To play good football you need fullbacks and wide players who can do different things," Bradley said. "Whether it's dynamic guys who can get up the field, but when you have good footballers, who can think and make good decisions and are good with the ball you have a chance to build a team that has real capability of controlling a game, and creating chances. 
"Tristan is one of these players that maybe hasn't been as visibile, whether it's with youth national teams or at a big school, but he's got a very natural way of moving around on the field," Bradley said. "He's athletic, he doesn't overcommit. He has a lot of qualities that give you hope that when you get him in a better environment he can really take off."
---
PAUNOVIC GETS HIS FORWARD IN IMPRESSIVE BAKERO
---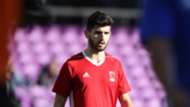 Chicago Fire coach Veljko Paunovic knows a good forward when he sees one. Having plied his career as a forward in Europe's top flight, including a decade in Spain, Paunovic has seen his share of Spanish forwards, and could tell right away that Jon Bakero was a player he could find room for on the Fire.
The only problem was Bakero was expected to be an early pick in Friday's draft and the Fire held the 10th overall pick. As the draft's first picks flew off the board, Paunovic watched Bakero slip down. After watching four players go off the board, and seeing two teams make trades into the top four to land players they coveted, Paunovic knew what the Fire needed to do.
"When the trades started to happen, it makes you start to think diferently and see the possibilities," Paunovic told Goal. "II didn't want to leave with a bad taste in my mouth because we didn't get (Bakero). "
Fire general manager Nelson Gonzalez made it happen, orchestrating a trade with Minnesota United for the fifth overall selection, sending $175,000 in allocation money and goalkeeper Matt Lampson to the Loons, paving the way to bring Bakero to Chicago.
"He fulfills the role and the style of playing we're playing now, which is competitive, good on the ball, mobile, unpredictable," Paunovic said of Bakero. "That's who we are as a team, and want to be, and he will get better. All that makes him the perfect profile for us, and he has something that we didn't have, at least not productive in attack. He has good size, which is something we were missing."
Bakero was the best player at the recent MLS combine, but his international status and guaranteed senior contract hurt his stock in the eyes of some teams. Not the Fire, who not only drafted Bakero, but also English midfielder and Generation Adidas signing Mo Adams with the 10th overall pick.
"It's not easy to deal with the international spots, but we want good players in the draft, and we can figure out the international spots later," Paunovic said. "Knowing that he's international we knew that he could slip, but we also knew there were teams like us that would be willing to take that risk."
Paunovic actually crossed paths with Bakero's father, former Barcelona and Spanish national team standout Jose Mari Bakero, facing him in the final year of Jose Mari Bakero's career. Paunovic knows the pedigree, and also the expectations that are sure to follow the younger Bakero as he embarks on his professional career.
"What we want is to give Jon the opportunity to create his own legacy, make his own name in this world," Paunovic told Goal. "And (the Fire) is the place for him to be, and the opportunity he was probably looking for."
Bakero should have his chance to contribute right away, what with the Fire having traded away Ghanaian forward David Accam. Chicago isn't done making moves, with some international acquistiions expected along with Bastian Schweinsteiger's return, but regardless of what reinforcements are brought in, Bakero will have an opportunity to contribute, and start making his own name, in 2018.
---
LATE-ROUND SLEEPERS
---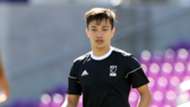 Sunday saw the third and fourth rounds of the MLS draft take place via teleconference call, and while some teams chose to pass on using their late picks (like Real Salt Lake), others made selections that could generate some very good value.
Late-round steals have long been a staple of the draft, with the likes of Michael Bradley and Geoff Cameron having been taken well after the first round. Just last year, the Philadelphia Union grabbed a late-round bargain in defender Jack Elliott, who emerged as a regular starter in 2017.
Who are some of the players who could wind up being this year's late-round gems? Here are some candidates:
KEN KROLICKI, Montreal Impact (53rd overall). A timid showing at the MLS combine left many teams dropping him down their rankings, but he winds up joining an Impact side that can use central-midfield depth after the retirement of Patrice Bernier and departure of Calum Mallace.
CORY BROWN, Vancouver Whitecaps (62nd overall). A former New Zealand Under-20 national team captain, Brown fell into the category of international player without a clear position, which led to a steep drop. Carl Robinson is good at developing talent and just might be able to develop him into a viable left back or defensive-midfield option, though Brown played as a center back in college.
LUIS ARGUDO, Columbus Crew (67th overall). Tough and relentless, but also possessing good attacking qualities, Argudo projects as a right back in the pros, though he could help as a utility player on the Crew bench. Overshadowed by bigger names on Wake Forest's squad, Argudo is a coach's dream due to his work ethic and versatility.
RAFAEL ANDRADE SANTOS, D.C. United (74th overall). It's never easy for college attacking midfielders to convince MLS scouts they are worth a high draft pick, much less an international player, but Andrade Santos was a perfect example of a talented player who saw his draft stock hurt by being a foreign player. D.C. United took a late flyer on him even though it doesn't have many international slots to work with, but if he impresses in camp, he could be the steal of the draft.
NICOLAS SAMAYOA, New England Revolution (78th overall). Coming into the draft it was expected that Albert Ruiz would be the lone Florida Gulf Coast player drafted, but that distinction wound up going to Samayoa, a Guatemalan Under-20 player with the tools to develop into an MLS starter. The Revs can afford to bring him along slowly, and he just might help salvage a draft that was largely underwhelming for the Revs.