Football Business
Swedish champions AIK to offer lifetime season tickets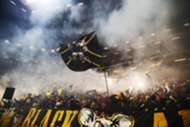 Swedish side AIK have announced that they are to sell lifetime season tickets ahead of the country's 2019 domestic season.
The Stockholm-based outfit, who secured Sweden's Allsvenskan top-flight title in November, are offering lifelong passes worth $20,407 (£16,000).
Described as an 'infinity card', purchasing the ticket entitles fans to a seat at the club's Friends Arena stadium for as long as they live.
The price - which equates to 189,100 krona - was decided in reference to the club's 1891 founding year.
A club statement read: "We're proud to welcome people of all ages, occupations and backgrounds to our stands.
"As a celebration to this commitment, we've created the Infinity card. Even though it might not be a bestseller, it's an important reminder that AIK is always there for you, no matter what."
AIK were named champions of the Swedish top flight for the sixth time after they defeated Kalmar FF 1-0 on November 11. It was the Stockholm club's first league title in nine years and was followed by a pitch invasion.
AIK aren't the first club to offer a lifetime season ticket. Portsmouth FC offered the same for £2,000 during the 2001-02 season, but earlier this year caused an uproar when they asked their fans to voluntarily contribute or relinquish the tickets back to the club.