Republic of Ireland v Netherlands
Southampton striker Shane Long has everything, says Murphy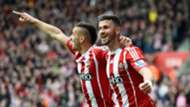 Daryl Murphy believes that Southampton forward Shane Long has all the attributes required in a top-level striker.
With 10 goals in 23 Premier League starts for Southampton this season, Long was a key performer for Ronald Koeman's side, helping them to secure a sixth-place finish and Europa League football in the process.
Since his decisive strike in the Republic of Ireland's 1-0 over Germany last October, the Tipperary native's level of play has improved remarkably, but his strong form appears to be nothing new to Ipswich Town forward Murphy.
"I think Shane has always improved any time I've seen him to be honest with you," Murphy told reporters. "He's got everything you need to play at the top level and he does it week in, week out.
"He scores goals, he causes teams all sorts of problems, so I think it's great for us to have a player like that with his pace and goal-scoring record in our squad."
After struggling to break into O'Neill's side prior to the Germany game, Long has since become a regular fixture, starting three of the last five games.
The former Hull City forward bagged a double in the 2-2 draw against Slovakia in March and struck four goals in the last seven games of the season for Southampton.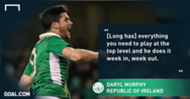 Murphy, meanwhile, had 10 goals in 34 games for Ipswich last season but is still looking for his first Ireland goal in 19 appearances ahead of the upcoming friendly against the Netherlands on May 27.
"A goal would be great, I've been waiting a long time for one of them," the Waterford native added. "Of course it would, but, first and foremost if I play any part, it's important that I do the basics right.
"If I'm only thinking about a goal and I'm not holding the ball up, or fighting my corner and setting people up, then I'm at nothing really.
"Once that part of the game is taken care of and I get a chance hopefully it will go in. It has not wanted to go in for me for a while now but I think I just need to get the chances and hopefully I'll take one."