England v Russia
Slutsky: Russia must accept that we're s***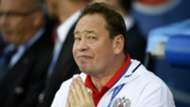 Leonid Slutsky has revealed he stayed up all night with his Russia players after their 3-0 defeat to Wales before concluding: "We're s***."
Russia endured a hugely disappointing Euro 2016, going out at the group stage after collecting just one point from their three matches.
Slutsky, who has since resigned, now believes the country is facing a period of rebuilding ahead of hosting the 2018 World Cup and compared the national team to a recovering alcoholic.
"Up to nine in the morning [after the Wales defeat], we discussed what happened," he said in an interview with sports.ru.
"We all in unison uttered the phrase: 'We s***.' This reality must be accepted, because it is an important point of reference. 
"Like alcoholics. Acknowledge: 'Yes, I'm an alcoholic' - it is the most basic step to begin treatment. In all the American films, when someone says, 'Hello, I'm an alcoholic' it seems trivial to us. But in fact it is the most difficult thing to do."