Mohamed Salah
'Salah more like Ronaldo than Messi' - Carragher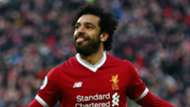 Mohamed Salah's stunning form at Liverpool has put him more in the Cristiano Ronaldo bracket than the Lionel Messi mould, says Jamie Carragher.
The Reds broke their transfer record to bring the former Chelsea forward back to England from Roma in the summer of 2017.
Jurgen Klopp placed £36.9m worth of faith in the Egypt international and has been handsomely rewarded, with Salah contributing 31 goals and nine assists across all competitions .
His quick feet and predatory instincts in the final third have drawn comparisons to the very best in the business , with Carragher of the opinion that the 25-year-old is now more like a Real Madrid talisman than a Barcelona icon.
The Liverpool legend wrote in a column for the Telegraph : "Cristiano Ronaldo is the prime example of how the role [of wide forward] has changed.
"When he joined Manchester United he liked hugging the touchline, performing his step-overs and terrorising right-backs.
"Now he is completely different player - a goalscorer more than provider. He is disappointed if he comes off the pitch and has not scored.
"He does not want to be indulging in his party tricks out wide because he cannot shoot from there, so his game is all about cutting inside and getting into the penalty area to swell those extraordinary numbers.
"That is why although there has been some comparisons made between Salah's style and that of Lionel Messi – obviously he is not at the level of either Messi or Ronaldo yet – the Liverpool forward has more of Ronaldo's approach about him.
"Messi likes to come deeper for the ball and involve himself in the build-up. That is not Salah's way. He has the mindset of a prolific striker, as demonstrated by how disappointed he is whenever he is substituted late in a match as he craves more goals. It is refreshing to see."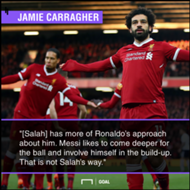 Salah's exploits have made him a leading contender for the 2017-18 Premier League Player of the Year award , and Carragher believes he will offer the greatest threat to Manchester City playmaker Kevin De Bruyne in pursuit of that particular prize.
He added: "If you had asked me a few months ago who deserved this year's accolade I would have said it must be De Bruyne, especially given the massive gap between the champions-elect and the rest.
"It will be no surprise if City's domestic dominance ensures their best player is rewarded.
"But with respect to the Belgian, the more I assess Salah's contribution, the more I feel he deserves to push De Bruyne far closer than I imagined.
"He has the potential to go ahead in the next few weeks, particularly if he produces a match-winning performance at Old Trafford next weekend."