Portugal v France
Portuguese football fan was only victim of Stade de France terror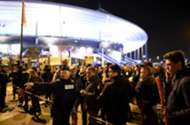 ---

COMMENT
---
The only civilian to die at the Stade de France as a result of the November 13 terror attacks on Paris which killed 130 people was a Portuguese football fan - Manuel Colaco Dias. The 63-year-old driver had taken a group of France supporters from Reims to see the match against Germany that night.
A friendly man who loved his football, Dias would often drive passengers to stadiums for matches and would often go inside along with them too. Not this night. After dropping off his passengers, he was going either for a cup of coffee or some dinner when a terrorist detonated his suicide belt, killing himself and Dias instantly outside Entrance J.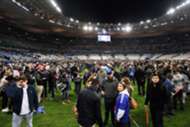 Inside the stadium, many cheered "Olé" when the bomb that killed Manuel Dias went off. The crowd thought the first of three explosions in Saint-Denis was a firework like they would hear every week in Ligue 1 grounds. The second went off shortly after and it was apparent from then on that all was not well.
Team coaches Didier Deschamps and Joachim Low were informed of the unfolding situation but the players were kept in the dark until after the match. It was thought better to keep them calm and, moreover, keep the fans in their seats instead of rushing the gates in panic.
"We're all shaken and shocked,'' Low said. "For me personally, the game and the sport loses importance. We're at a loss. We don't know what to do.''
A gang of three terrorists tried to gain access to the stadium 15 minutes after the match kicked off. The first got close. However, a challenge from security personnel meant he was turned away from the gates and instead blew himself and Dias up outside the ground. The second explosion happened nearby shortly after killing only the suicide bomber. The third went off around 20 minutes later near a McDonald's and again only the bomber died. The original plan was for one suicide bomber to detonate inside the stadium and the other two to catch the crowd rushing out in the chaos that would follow.
French president Francois Hollande was at the match but was rushed out at half-time to co-ordinate a response to the horrors in Saint-Denis and in Paris's 10th and 11th arrondissements. Around 130 people died at the hands of terrorists that night, including 89 in the Bataclan massacre.
France international Lassana Diarra lost a cousin in the attacks and Antoine Griezmann's sister Maud was in attendance at the Eagles of Death Metal concert.
"The French people really needed to escape via this competition, and sport has this strength: to unite people," Hugo Lloris said ahead of the final. 
By around 23:30 local time, the area around Stade de France was secured and fans – thousands of whom had gathered on the pitch – were permitted to leave. On the way out they sang La Marseillaise.
The French players stayed beside their German colleagues deep in the bowels of the stadium that night - on some mattresses - until the Germans could depart for their flight to Frankfurt. There had been a security alert earlier that day at their hotel and it was deemed unsafe to go back there after the aborted match.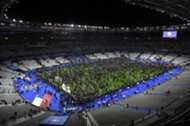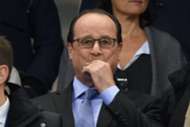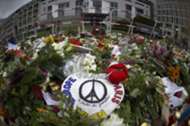 Manuel Dias's family didn't sleep either. They had tried in vain to reach Manuel by phone without success after hearing of the attack. His employer sent someone to Stade de France to look for him and found only his unoccupied vehicle. The next morning, the Portuguese government informed the family he had died.
Dias should not have been working that night. Retired since 2013, he nonetheless took on the odd driving job here and there – mostly as a hobby and also to keep up connections with people he knew and liked. He was not originally assigned to the job that night but the group of fans he drove to the stadium in a mini-bus requested him personally.
Having first moved to France as an 18-year-old with his parents to escape the brutal Estado Novo dictatorship in his homeland, Dias raised a family there and was hugely proud of his adopted country.
There is a massive Portuguese population in France – estimated at around 1.2m – and three of Portugal's Euro 2016 squad were born in France too. Adrien Silva, Raphael Guerreiro and Anthony Lopes are all French by birth.
Manuel Dias was from Mertola – a town in Portugal's south whose population was ravaged by emigration from the 1960s onwards. He returned to Portugal for a spell in the 1990s but decided to come back to France to enjoy what he saw as a better standard of living for himself and his children – son Michael and daughter Sophie.
He was a football obsessive since watching Portugal play England in the World Cup semi-final in 1966 on a black and white television and had a deep passion for Sporting as well as Reims and the Portuguese and French national teams – the same sides who now contest the European Championship final on the ground where he lost his life.
Goal journalists are powered by the Samsung Galaxy S7 and Gear 360