Malaysia Cup
PKNP handed disadvantage ahead of second leg tie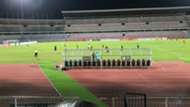 PKNP FC didn't get the rub of the green when it was decided that only one team can play their quarterfinal second leg match at home in Perak Stadium. 
Perak The Bos Gaurus got the nod and will have their home leg actually be played at home on Sunday. Football Malaysia Limited Liability Partnership (FMLLP) announced the changes in the two fixtures after intervention from Ipoh's City Council (MBI).
After much work put in to repair and improve the state of the pitch at Perak Stadium over the past two months, MBI were vehement in their decision not to allow back-to-back matches to be held at the stadium.
Initial schedule put the PKNP versus Felda United match on Saturday with the Perak versus Pahang match on Sunday, both at the same ground.
However, in a similar situation, the stadium was used for back-to-back matches earlier in the season in the FA Cup. Back then, PKNP played the first day on 10th March 2017 against Kuantan FA before Perak took on Kedah the following day on 11th March 2017.
The change meant that PKNP will now play their home second leg in an away ground more than 200km down south. Shah Alam Stadium was chosen as the alternative venue and it is a decision that will surely disappoint Abu Bakar Fadzim, having said previously that the team is looking forward to playing at home again.
PKNP hold a 3-1 lead against Felda after a Shahrel Fikri hat trick at Tun Abdul Razak Stadium has more than given the plucky Premier League a chance to reach the semi-final stage of the competition.