Mesut Özil
Ozil: I turned down 'fairy tale' £100m China move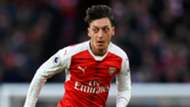 Arsenal ace Mesut Ozil has revealed that he had the chance to move to the Chinese Super League and earn £100 million over the course of his contract – but he turned the move down.
Arsenal team news vs Middlesbrough
The Germany star did admit he had doubts over his performances when they were criticised, but these were quelled by France veteran Robert Pires, who offered advice to the playmaker on the frequent occasions he would visit the club.
For example, the Gunners legend explained to Ozil that there was no need for him to add muscle mass to succeed in the Premier League, and the former Real Madrid man was able to promptly make up his mind about a transfer away from Emirates Stadium.
"When I got an offer from China last summer, however, I didn't need his [Pires's] advice because the offer was too absurd," Ozil explains in his forthcoming autobiography 'Gunning for Greatness'. 
"The Chinese were prepared to pay me £100 million net over a period of five years. A fairy tale amount of money that went beyond the limits of my imagination.
Lyon players attacked by Bastia fans
"In spite of this, it took me less than three minutes to decline the offer. My agent, Erkut, called me to let me know about the bid. He said: 'I think we're agreed what we're going to do, aren't we? You won't consider it, will you?'
"'I'm nowhere near the end of my career,' I replied. 'I still want to win titles with Arsenal. I don't want to play in China no matter how much they're willing to pay. No way'.
"And so the matter was settled. In the knowledge, by the way, that Chinese president Xi Jinping is a fan. On one occasion Arsenal's managing director came to tell us that the president had contacted the club asking for my jersey with a dedication. In fact, he wanted a Germany shirt and we promised to sort it out.
"That same day a courier picked up the shirt from my house."