Bayern München
Neuer: Bayern have let things slide this season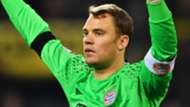 ---
EXCLUSIVE
---
Manuel Neuer concedes that Bayern Munich have "let things slide" in recent weeks and warns that they will not succeed unless they get back to their best.
Alonso: Ronaldo is welcome at Bayern!
The Bundesliga champions started the season with eight straight wins in all competitions but two separate runs of going three games without a victory has seen them surrender their place at the top of the German top flight, while they will finish second in their Champions League group behind Atletico Madrid.
Bayern finished last season 10 points ahead of nearest challengers Borussia Dortmund but are now three points behind the Bundesliga's newest sensation, RB Leipzig, who have rocketed to the top of the table in their first season in the division.
And Neuer insists that Carlo Ancelotti's side must continue to work hard and "give everything" if they are to claim a fifth consecutive league title this term.
"We had to work hard for everything with Pep Guardiola as well," the Germany international told Goal. "We have never been 'gifted' a game, nor the three points. We have always to be aware of that.
"It's obvious you always have to give everything in order to succeed. That's why playing at 80 per cent isn't enough – not against a 'normal' Bundesliga team. You always have to work hard.
Bayern won't sell Muller to Manchester United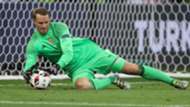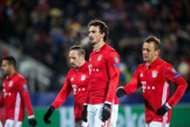 "Not everybody has played at their highest level recently and we haven't played our best as a team either. When that happens, you realise that, even with many stars in the team, these games aren't easy to win.
"Many things are necessary if you want to win games. We have let things slide a bit up to now and that is a mistake which cannot keep happening in future."
Neuer, speaking after Goal accompanied him on a visit to 'Rollwagerl '93', a Bayern fan club for wheelchair-bound supporters - part of a pre-Christmas tradition for Bayern players - was adamant that he and his team-mates must display their class even when things are not going their way. He points to their recent 2-1 win over Bayer Leverkusen as an example of how they can often scrape to victories.
Man Utd fans rejoice at Schweinsteiger comeback
"Normally we have to play every game with great self-confidence," he added. "We had so much success in the past. Normally nothing should throw us off our path so easily.
"We have huge quality in the team and we are able to play some great football. Demonstrating this when things are not going too well is a different story, which is why I said the 'ease' is missing at the moment. The normal, automatic moves which always worked in the past don't seem to be working for us at the moment.
"Nevertheless, we got a hard-earned victory against Leverkusen. Nobody expected the match to be a pretty one but I think this win can be the moment that helps us turn the season around."
As a goalkeeper for a team who dominate most games and concede just 7.7 shots per game – the fewest in the league - Neuer's influence on games is only fleeting but he tries to have an impact in more ways than just saving shots.
"Above all I am a member of the team," he continued. "Even if, as a goalkeeper, I cannot intervene directly, I can think about the match, talk to my team-mates a lot in order to try to change the course of the game. We are all discussing a lot, so we can then try to play good football as a team."
Ribery: Bayern must hold on to Robben
The 30-year-old is also optimistic about Karl-Heinz Rummenigge's assertion that Philipp Lahm will eventually move into a sporting-director role, while he is also glad to see Franck Ribery extend his contract and the return of Uli Hoeness as Bayern president.
"Philipp is a strategist. He is a player who speak a lot and he always takes responsibility," the keeper enthused. "I think it would be a good position for him but I hope he will not start this job already next season. He is a very important player for us.
"Franck is a world-class footballer. He was especially important for us at the beginning of the season, when he helped us to win some tough games. Franck was the most important and the best player in our team until his injury. We owe him a lot.
"I think Uli Hoeness is somebody who can make clear announcements. Somebody who has the feeling when there is such a situation and when you can use it to say your opinion."