Transfers
'More than a club'? Malcom hijacking proves hypocritical Barcelona are just like everyone else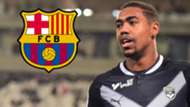 Nobody better understands the win-at-all-costs mentality of modern football than Jose Mourinho.
When the Portuguese hijacked Tottenham's signing of Willian from Anzhi Makhachkala in 2013, he added insult to injury by essentially claiming that Spurs only had themselves to blame for revealing that the Brazilian was in London for a medical.
"That's the danger of medicals before contracts," Mourinho smugly mused after wrapping up a £30m deal for the attacking midfielder. "The best thing you can do is do the medical in secret."
But, as a plc with an obligation to operate with full transparency, what were Tottenham supposed to do?
In addition, while nothing can be signed until after the medical has been passed, if terms have been agreed with both the selling club and the player in question, the buyer is entitled to feel that deal has been done.
Roma and their astute sporting director Monchi certainly had every reason to believe that Malcom was set to become their latest signing on Monday afternoon.
A fee had been finalised with Bordeaux and the Brazilian had accepted the Giallorossi's contract offer. The French side made the agreement public. 
"After that, we were forced to do so too," Monchi explained on Tuesday. "An hour later, rumours of Barcelona's interest started doing the rounds."
Still, the 21-year-old and his agent were booked on a flight to Rome at 21:00 that very evening. Malcom's mother had even travelled to the Italian capital to greet her son upon his arrival.
But he never made it to Fiumicino airport. Bordeaux had blocked Malcom from travelling, having received a more lucrative, 11th-hour bid from Barca. 
The Ligue 1 outfit had sanctioned the transfer, given Roma their word, even sent documents to Rome to be signed. But Bordeaux president Stephane Martin did not care. He told an incredulous Monchi that nothing had been signed, thus there was nothing Roma could do about it, other than raise their bid. 
Roma were willing to do so but when Monchi realised that they were being lured into a bidding war, he gave up on Malcom. Bordeaux had received a better offer from Barca (€41 million/£37m, to be precise) and that was that.
In football, as in any business, money talks; words are meaningless. The term 'Financial Fair Play' is as misleading as Barcelona's motto 'Mes que un club' ('More than a club') is now downright laughable.
Rather ridiculously, the Blaugrana still like to believe that they reside on some sort of moral high ground when it comes to what they represent and how they conduct themselves.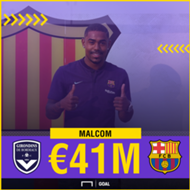 Of course, their defenders will argue that they were perfectly within their rights to enter the race for Malcom; that the timing of their arrival was irrelevant. 
And they are right. Roma are considering legal action against Bordeaux but Barca have broken no rules, no laws. However, the way in which they have hijacked this transfer makes a mockery of their belief that they are a club of nobility and honour. 
Indeed, their unscrupulous behaviour is surprising given Barca still hold a grudge against Real Madrid over the way in which the Blancos hijacked their deal for Alfredo di Stefano in 1953.
On the Blaugrana's official website, the loss of Di Stefano to their bitter rivals is attributed to "a strange federative manoeuvre [by the Spanish Football Federation] with Francoist backing" - in spite of the fact that Barca made several blunders during their negotiations with Colombian outfit Millonarios, who, along with River Plate, had claimed that they held the Argentine legend's ownership rights.
How big a role – if any – General Franco played in the ridiculous ruling that Di Stefano should be shared between the two Clasico clubs, playing one season at the Bernabeu and the next at Camp Nou, remains open to debate.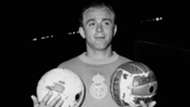 However, one would have imagined that given the contentious nature of the RFEF's intervention, the whole sorry affair would have only strengthened the Catalans' determination to never resort to such shenanigans in order to secure the signature of a player.
Yet the modern-day Barcelona have no time for laws and regulations, never mind old-fashioned ideas such as sportsmanship and fair play.
There were so many discrepancies and financial irregularities in their signing of Neymar from Santos in 2013 that Sandro Rosell resigned as club president. The following year, Barca were hit with a two-window transfer ban relating to the illegal movement of under-age players.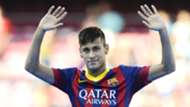 Remember, this is a club that once refused to sully their shirt with a sponsor. Then, they entered into an agreement with Qatar Airways, a company based in a country with a questionable human rights record, to say the least.
But then, needs must. Perhaps Barcelona just realised or accepted that this is football: the end always justifies the means. 
In order to keep up, you have to cut corners and, at the end of day, Barca are richer and more successful than they have ever been.
The sad thing is, though, that they are no longer more than a club. They are just like any other member of Europe's elite, part of the same infuriating hypocrisy.