AFC Champions League
Milos Ninkovic targets AFC Champions League for Sydney
Goal Australia Chief Editor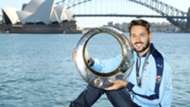 Having committed to another season with Sydney FC, new marquee Milos Ninkovic wants to help the Sky Blues become only the second A-League club to win the AFC Champions League (ACL).
Sydney revealed on Tuesday that Ninkovic had signed a contract extension for the 2017-18 season, which will be his third campaign with the club, with the 32-year-old set to replace either Bobo or Filip Holosko as a marquee player.
Holosko is reportedly being offered reduced terms by Sydney to move him under the A-League salary cap.
COMMENT: Ninkovic just the start if Sydney are to defend A-League
Ninkovic was critical as Sydney won the A-League premiership-championship double this season, with the Serbian playmaker also picking up the Johnny Warren Medal as the competition's best player, and he described the past 12 months as "the best year I've ever had".
Sydney won the A-League premiership by a record 17 points and added the championship on Sunday with a penalty shootout triumph over Melbourne Victory in the grand final.
Ninkovic scored the winning penalty for the Sky Blues.
"I would like to see this team win the Champions League because I really believe we have quality and we can do that, and of course, I want to win one more title with Sydney FC," he told reporters on Tuesday.
TRANSFER WRAP: Cole, Ibini & Borrello prepare moves
Western Sydney Wanderers are the only Australian club to have been crowned Asian champions, with Sydney's archrivals claiming continental glory in 2014.
Sydney coach Graham Arnold was clearly thrilled to have retained Ninkovic's services but conceded he had barely allowed himself time to celebrate his second A-League championship.
"As crazy as it sounds, I woke up early this morning and rang [CEO] Tony [Pignata] about 7.30 this morning and we started talking about recruitment for next year, and he said 'please give me a day off, let's enjoy ourselves a little bit' but that's how I am with football," Arnold said.
The champions have reportedly already bid farewell to on-loan winger Bernie Ibini, who is expected to join Vancouver Whitecaps on a transfer from Club Brugge.