Lionel Messi
Messi: Thiago is a good boy, Mateo a little terror!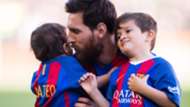 Lionel Messi has revealed how his sons Thiago and Mateo are complete opposites, with one a "good little boy" and the younger is "a son of a bitch".
The Barcelona star and wife Antonella Roccuzzo are awaiting the birth of their third child, and they are well prepared after handling Thiago, 5, and his two-year-old brother.
While the 30-year-old praised his eldest for his good behaviour, he described Mateo as a "hijo de puta" - a colloquial phrase that is more of a playful dig than a severe insult.
"They are very different," he told TyC Sports."Thiago is a phenomenon, he's a good little boy the other is just the opposite, a son of a bitch.
"Thiago likes cars and motorcycles more. He likes football, but even there he plays for a little bit and gets tired.
"Mateo is a terror, a character. It's nice to see how different they are from each other."
Messi also spoke of Thiago's close friend, Benja, the son of team-mate Luis Suarez.
"Thiago and his friend Benja are the same age and he's football crazy. He loves to play football, he watches football, he knows all the players."