Manchester United
Mata feels no threat from Alexis at Man Utd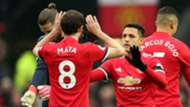 Juan Mata does not consider Alexis Sanchez to be a threat to his position at Manchester United, with added competition embraced at Old Trafford.
The Red Devils bolstered their playmaking ranks during the January transfer window when acquiring a proven international performer from Premier League rivals Arsenal.
Sanchez arrived without the need for a fee to be paid, with his expiring contract in north London allowing United to negotiate a swap deal involving Henrikh Mkhitaryan.
The latest addition to the United ranks is expected to make quite an impression, but questions are already being asked of how best to use him and who misses out as a result of his presence.
Mata is among those who could come under threat, but the World Cup winner is not overly concerned at this stage, telling Sky Sports: "Competition is high, in a team like Manchester United there will always be some kind of competition for places.
"Alexis is a great player and it's fantastic news for us to have him with us."
Mata has already seen his role change throughout his career, from a No. 10 to a deep-lying midfielder, and he is prepared to play wherever he is required at United.
"Since I came to United I am playing mostly in the right, but I am trying to adapt myself to different positions and try to give my football for the benefit of the team and that's what I enjoy doing," he added.
Mata has made 31 appearances for United across all competitions this season, seeing a 12-month contract extension triggered in the process, and admits he is hoping to help Sanchez carry the goal burden over the coming weeks having previously reached double figures in each of his three full seasons at Old Trafford to date.
A man with just three efforts to his name so far said: "Goals have always been part of my game and this season I haven't scored as many as I would like but I'm doing assists and having the chances and that's important as goals will come."
Mata's next opportunity to get on the scoresheet could some against Crystal Palace on Monday, with United looking to further secure their standing in second spot in the Premier League table.